Enchanting –
Proportionate, good looking large Limousine /li>
Superlative chassis, brakes, engine
Layers of luxury, technology and space
Feature loaded cabin
Unsatisfying –
Priced a bit higher
No Android Auto
No front passenger massage option
Styling
The car looks properly handsome to our eyes. The proportions (50-50 weight distribution) are just right and we thought we will slip by with a few staring eyes as always, but this time it was a galore of eye balls constantly stalking us. The very long silhouette, the muscular panels, the large chunky wheels with hub caps, no gap in the wheel arch and subtle use of chrome, which is still a bit more by European standards made this car gather some serious and surprising amount of attention.
The chrome 'golf stick' on the side of the car, a small detail clearly helps it stand out. The front of the car is all chrome which includes the borders of the grille and the even bumpers specifically have extra home below and above the lip is a neat touch. The large and chunky head and tail-lamp with LED in them are a treat in the day and the night too.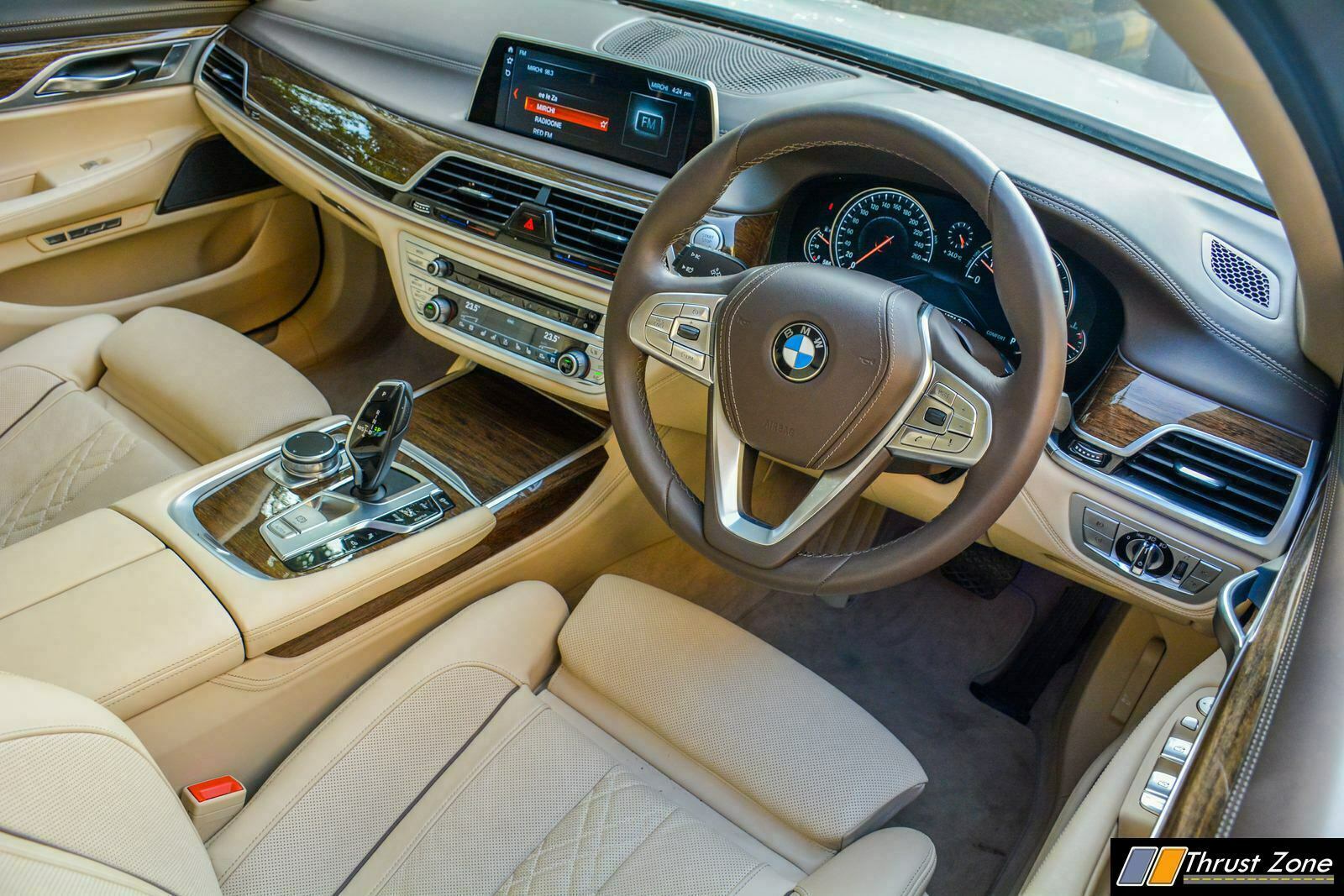 Interior is a place where the real deal lies for all flagship saloon. The quality is surreal, the level of sophisticated materials and inserts of all types of materials such as brushed aluminium and wood on the upper part of the dashboard and this time even on the door pads! The top section has a layer of leather which can be seen everywhere else, including door pads. Wood and leather covered center console and arm-rest yet again makes this cabin feel and look plush. The space is, well, always the highlight and there is all types room in abundance. Boot space is a bit shallow but long enough to accommodate a lot of stuff. The feature list is enormous and it includes everything you can think of. A lamp on the B-pillar to massage and adjustable seats even for the rear passenger.
Exterior feature list is also large and it includes Adaptive LED headlights with four LED DRL light rings including auto high beam assistance, Automatic operation of tailgate, BMW Display Key, BMW Laser light with LED low-beam headlights, LED hig-beam headlights with laser module, 4 LED daytime running light rings, LED direction indicator, LED cornering light including auto high beam assistance. Includes adaptive headlights function, specific design elements and exclusive BMW Laserlight designation.
Comfort access system – "keyless" opening and locking of the vehicle including tailgate, Exterior mirrors foldable with automatic anti-dazzle function on driver side, mirror heating, memory and integrated LED turn indicators. Headlight washer system, Heat protection glazing, LED fog lights with reflection technique, Power socket (12 V), 4 installed in front and rear, Rain sensor and automatic driving lights and Soft-Close function for side doors.
Interior feature list begins with 10.25 Touch Display with 1440×540 pixel resolution, BMW Touch Command with multifunction operation for comfort,infotainment and communication functions, Comfort telephony including audio streaming and handsfree operation, Harman Kardon Surround Sound system (600 W, 16 loudspeakers), iDrive Touch with handwriting recognition with direct access buttons, DVD drive and integrated 20 GB hard drive for maps and audio files and Navigation system Professional with 3D Maps.
List is endless and it also includes Park Distance Control (PDC) front and rear, Parking assistant, Remote Control Parking, Surround view cameras with 360 degree view including Top View and Panorama Side View and Wireless Charging. BMW gesture control as always works perfectly well. Ventilation, electric, memory seats at the front and rear is a neat touch. Massage seats in the front driver and rear passengers is standard. Passenger at the front doesn't get it. Climate comfort laminated glass and windscreen, Executive Lounge Seating, Floor mats in velour, Gentleman function for adjusting the front passenger seat from the rear and interior mirrors with automatic anti-dazzle function.
Multifunctional 26 cm instrument display with individual character design for Drive modes, Panorama glass roof, Panorama glass roof with Sky Lounge with integrated, LED light graphics with 15,000 illuminated graphic surfaces in glass is a fantastic childish dream that seems to put a smile on everyone's face.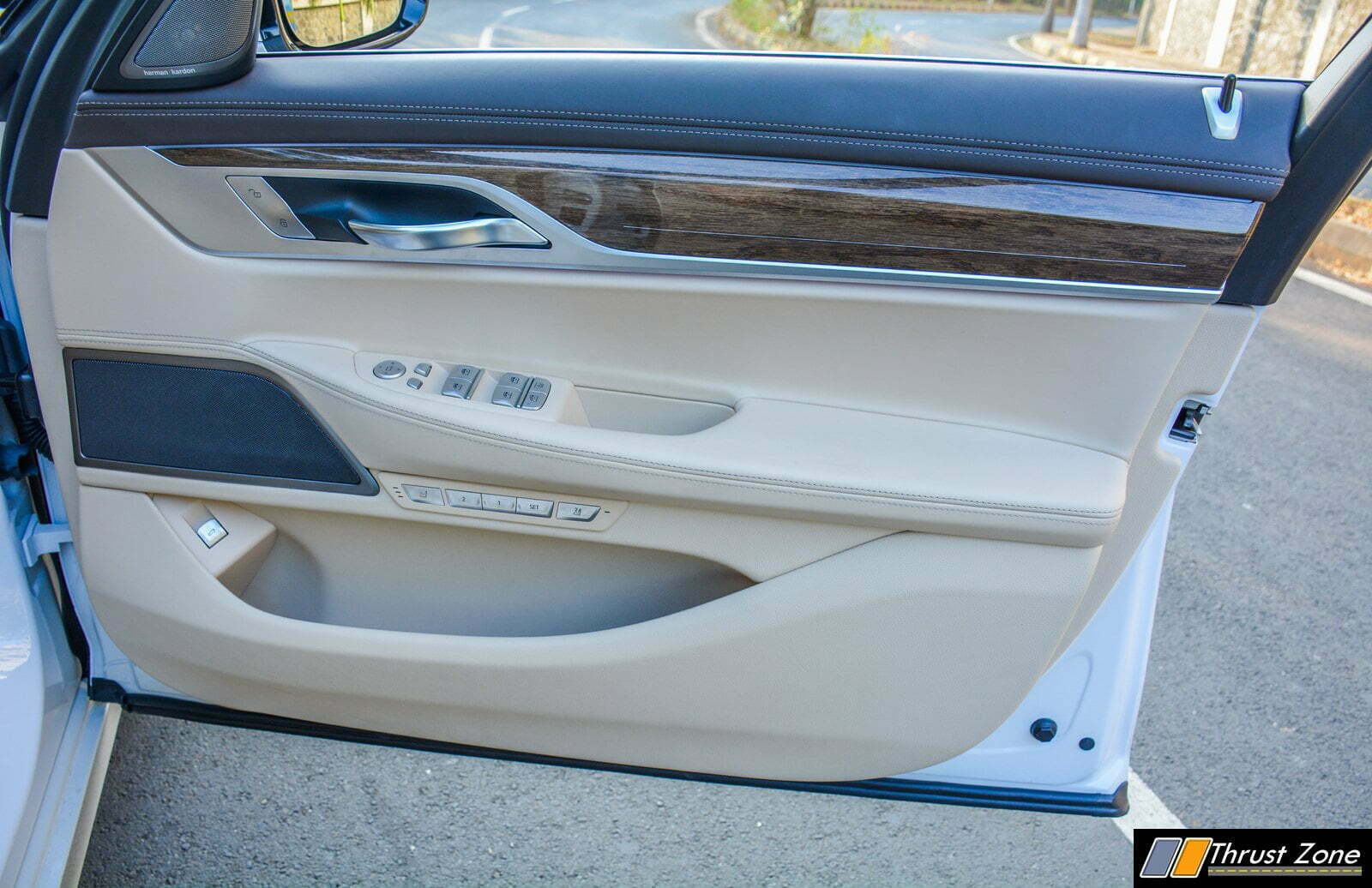 Roller sunblind for rear window electric, for rear side windows electric, Steering column adjustment, electric, Smokers package and Welcome Light Carpet on the outside is a cool touch. Rear entertainment includes Two tiltable 23.4 cm (10″) screens in HD resolution with a Blu-Ray drive, Operation via a 7" tablet (Touch Command), Interface ports HDMI, MHL,USB to connect external electronic devices, Access to the vehicle's entertainment functions (e.g. radio and DVDplayer) and navigation system (driver independent navigation).
Engine and Gearbox
Clearly, BMW makes the best straight 6-cylinder engines and this is no exception. The 352 BHP and 450 Nm of torque engine screams all the way to redline and there is turbo lag below 3000 RPM. However, motor starts to wake up around 2000 RPM where driveability can be seen at low speeds, in the city. 8-speed automatic (not sport automatic) has been used and it is seamless and quick in changes, but only in sport mode. Comfort mode takes time to shift up and down.
Same can be said about the Eco pro mode too. Sport mode redline shifts are a tad bit jerky and feels engine and gearbox are confused a bit, but no one drives 2 tonne limousine like that. NVH levels are so low that you can barely hear the engine, even at full thrust. Mid-range and top-end power is in abundance and at the same time the fuel economy number gets close to the claimed number of 12 km/l, we saw 8.5 with a heavy foot on the highway. It also manages to do all of that and 0-100 km/hr in 5.6 seconds.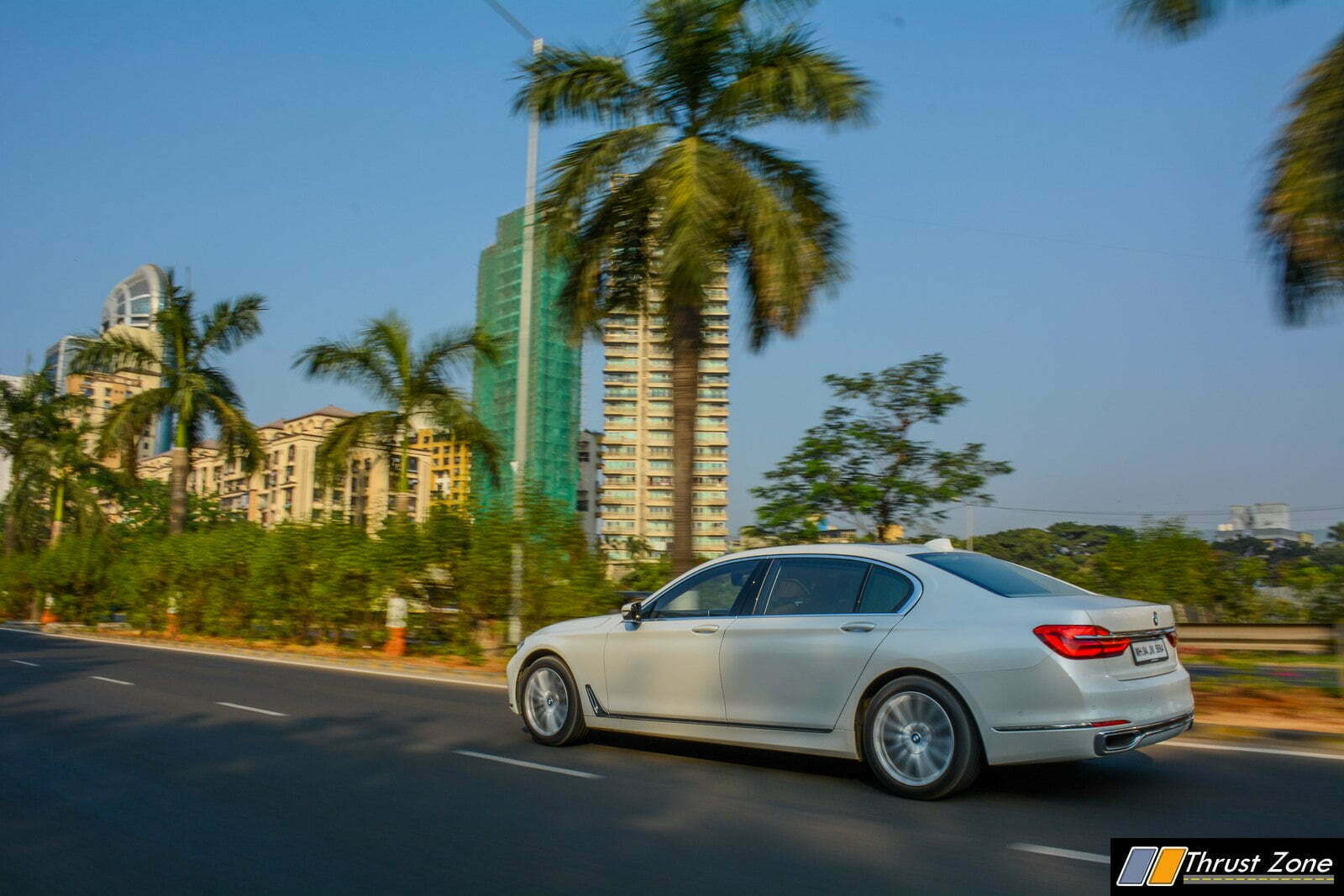 Dynamics
The car felt like a slightly bigger version of the 5-Series. The reason? The carbon fibre use made the car feel light while taking corners and sweepers at high speeds. The suspension also felt at home and in typical BMW fashion, comfort mode was quite flighty and the sport mode made perfectly how every BMW should be, firm yet subtle enough not to be harsh.
Steering is supremely direct and light at any given speed it. Be it 5 km/hr or 200 km/hr. It does get moderately heavy at high speeds too. You would think this large limousine is not easy to drive because of the size, but the steering lock and carefully pre-judged maneuvers make this car quite easy to live with and drive in the city.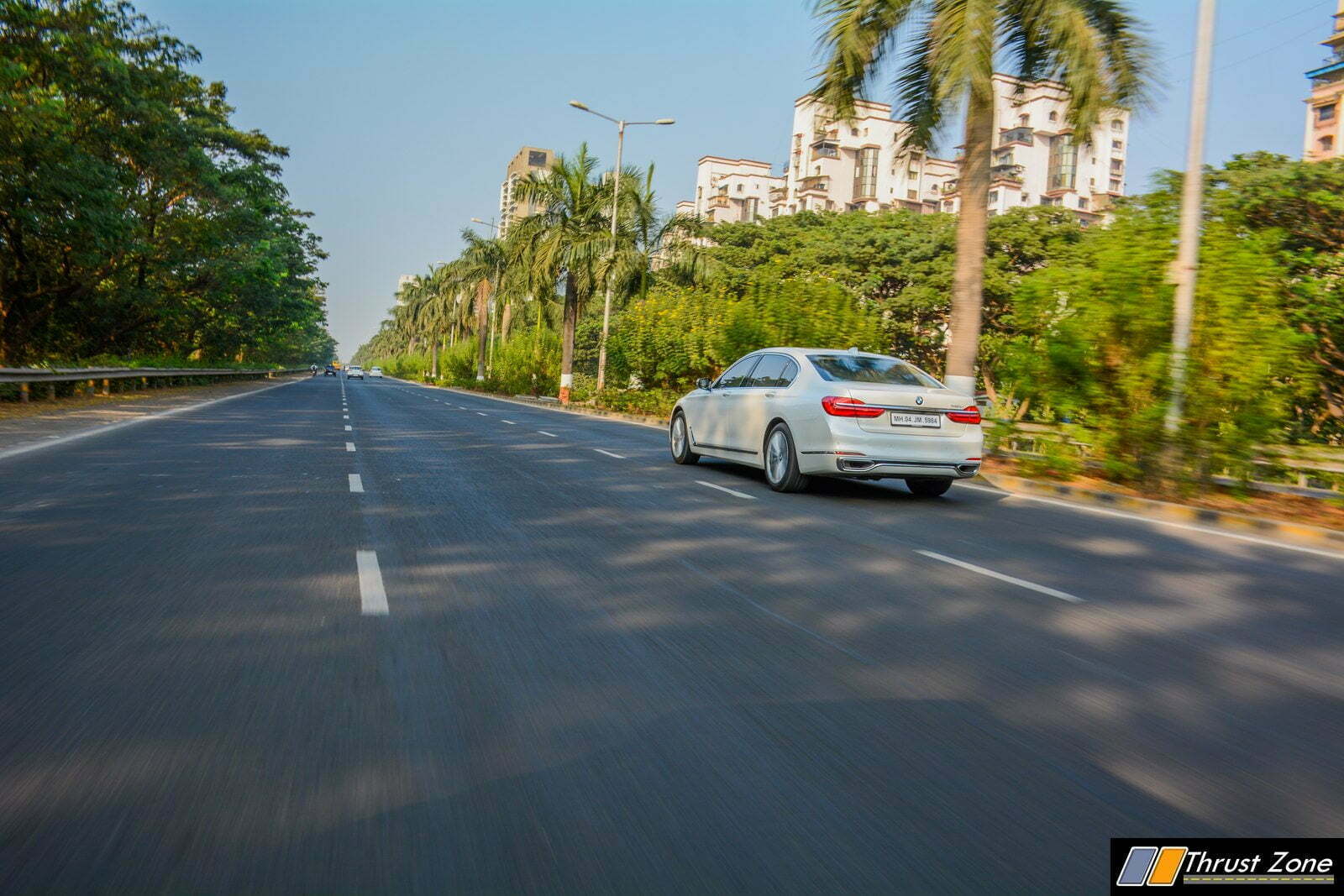 130 kg weight saving over the old car and proper suspension mean this is the best balance of a luxury ride quality and sporty riding dynamics BMW has ever achieved till date with the 7-Series, something that has been a bias one way or the other since inception. Sure, the long wheelbase and weight is apparent, but we don't have autobahns to feel them on a daily basis. Need a race track car, go to the M division. Brakes were good with excellent pedal bite initially and post that too. Overall, a very nice balance for the first time and glad to say BMW is back in the game.
2018 BMW 7-Series 740i India Review, Verdict
The more popular model would be the diesel version, which we are yet to test, but nevertheless. The petrol version and price gap between with both fuels is narrowed considerably in the year 2018. The fuel economy numbers are quite similar as always is the case with efficient BMW cars. More importantly, the 7-Series feels supremely lavish and this time has an extra layer of everything, including sophistication, luxury and technology.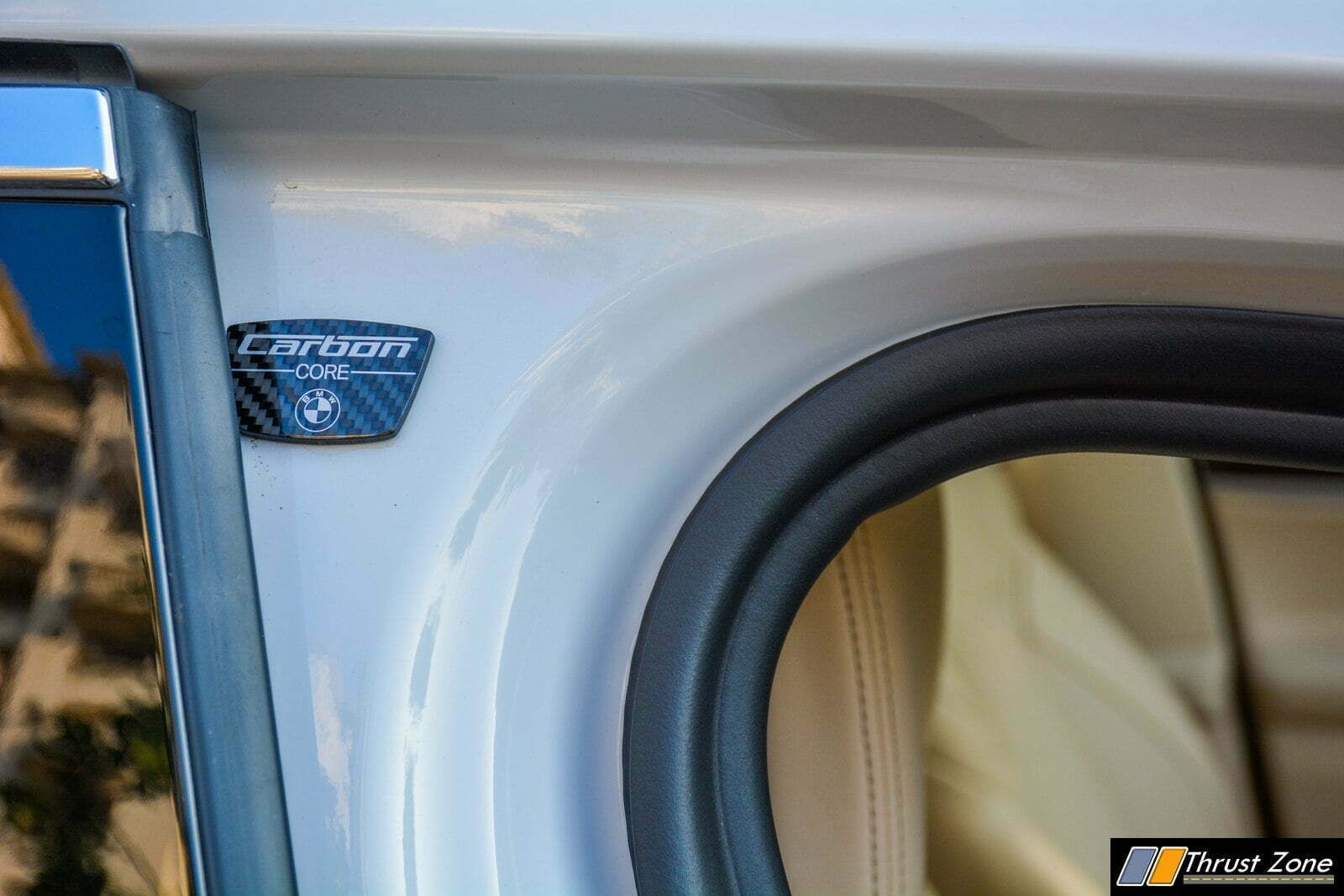 The 7-Series has almost the perfect balance where you can be chauffeur driven on the weekdays and get the wheel your self on the weekends have fun behind the wheel too. No matter whatever variant or fuel you choose, you get a sense of occasion feeling every time with the car.
740Li DPE Signature INR 1,32,40,000
730Ld Eminence INR 1,20,40,000
730Ld DPE Signature INR 1,29,40,000
730Ld M Sport INR 1,32,40,000
730Ld Design Pure Excellence (CBU) INR 1,51,60,000
M760Li xDrive INR 2,44,90,000
Design

Interior

Features

Space

Safety

Performance

Dynamics

Practicality

Value