At the 2018 Auto Expo, Mahindra showcased us the new generation SsangYong G4 Rexton and this SUV is supposed to be sold in the Indian market with the Mahindra badge on it. Once launched, this SUV will be positioned above the XUV 500 from Mahindra's stable and it could be named or called as the XUV 700. Some days ago, the Mahindra XUV 700 was spotted doing test runs. The model spotted testing had a shade of silver and the badges confirming almost production ready model.
2019 Mahindra XUV 700 Chassis, suspension and brakes
The XUV 700 is a full-size premium SUV and it is developed and based upon the Quad-Frame. The main advantage of this frame is that it has got high structural strength and in accordance with this the body weight of it is still low.
2019 Mahindra XUV 700 Interior and Features
The Mahindra XUV 700 will come with three rows making it a seven-seater SUV. The cabin will be spacious and will come equipped with many high end features making it a luxurious car. Mahindra will be offering this SUV with reclining seats and a massager in it, also it will be equipped with an 8.0-inch touchscreen infotainment unit, electric sunroof, dual-zone automatic climate control and many more features.
For the second row, Mahindra will be equipping the XUV 700 with a 10.1-inch centre console display which will have an integrated communication system. In addition to this, the headrests will come fitted with 9.2-inch monitors and it will also get Wifi Connectivity, Android Auto and Apple Carplay which is integrated with the communication system.
2019 Mahindra XUV 700 Price and Launch
As of now, there is no clarification when will this SUV be launched in the Indian market. A Diwali launch or before April 2019 is rumoured to be on the cards.
2019 Mahindra XUV 700 Engine And Specification
Powering the Mahindra XUV 700 will be a 2.2 litre Euro VI diesel motors which is coupled with the seven-speed automatic gearbox. This mill can produce 178 bhp of power and 420Nm of twist. There could also be an option of an all-new 2-litre turbocharged petrol motor that produces 222bhp of power and 350Nm of twist.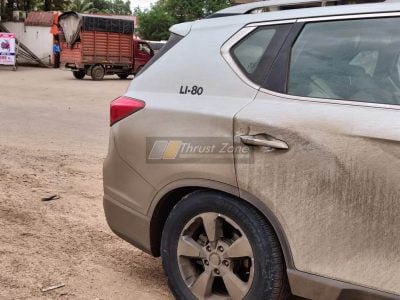 2019 Mahindra XUV 700 Safety Features
In terms of safety, this SUV will come loaded with nine airbags, blind spot detection, lane departure warning, lane assist, traffic alert assist, high beam assist and advanced emergency braking (AEBS).
22019 Mahindra XUV 700 Competition
Once launched it will compete head-on with the Toyota Fortuner and the Ford Endeavour in the Indian market.
Read this too: Mahindra E20 Plus Get Virtual Reality OnBoard To Make The Experience Of Driving Snazzier!
Read this too: X2018 Scorpio Launched
Read this too: Mahindra Enter USA Market
Read this too: XUV W9 Variant
Read this too: KUV 100 NXT launched
Read this too: KUV NXT automatic details, launching soon
Read this too: 2017 TUv 300 T10 variant launched
Read this too: Mahindra two wheelers concentrate only on premium two wheelers
Read this too: Mahindra electric e-rickshaws
Read this too: XUV 500 gets even more features
Read this too: 2017 TUv 300 modification is all JEEP!
Read this too: KUV CNG variant coming soon
Read this too: Mahindra Y400 is Fortuner Endeavour rival
Read this too: Mahindra-BSA-Jawa plans discussed – Report