Jaguar I-Pace India Launch in 2021 Along With Other Hybrid Vehicles will strengthen the already stronger portfolio of the brand
Jaguar Land Rover is to launch its electrified products in India. In line with Jaguar Land Rover's global commitment to introduce electrified options on its entire product portfolio by 2021, Jaguar Land Rover India proposes to offer multiple products, ranging from Hybrid Vehicles to Battery Electric Vehicles (BEV) over the next few years, starting from 2019. Towards the end of 2019 Jaguar Land Rover introduced its first semi-hybrid Vehicles from Land Rover.
Jaguar Land Rover India plans to launch its first Battery Electric Vehicle, the Jaguar I-PACE. I-Pace is already winning hearts around the world. Jaguar Land Rover's first foray into Battery Electric Vehicles (BEV), the I-PACE is now a step closer to being launched in India. The first unit of the All-Electric Performance SUV has landed in India at JNPT near Mumbai, for extensive testing and validation across the country.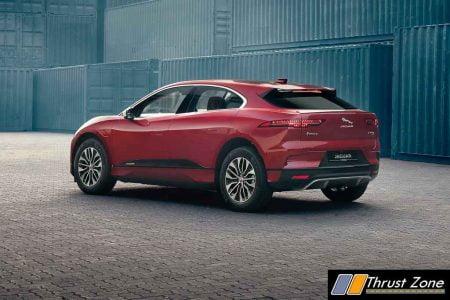 The first Jaguar I-PACE in India is finished in stunning Firenze Red and is a top-of-the-line HSE variant. Equipped with a 90 kWh lithium-ion battery, the I-PACE produces 294 kW and 696 Nm torque, helping it accelerate from 0-100 km/h in just 4.8 s.
Since its debut, the I-PACE has won several accolades and over 80 global awards, including the prestigious World Car of the Year, World Car Design of the Year, and World Green Car in 2019. It was the first vehicle ever to win all three World Car titles simultaneously in the 15-year history of the awards, reinforcing its status as the best electric luxury SUV.
Rohit Suri, President & Managing Director, Jaguar Land Rover India said, "We are delighted to share with you pictures of the first Jaguar I-PACE in India. The I-PACE marks a significant milestone in Jaguar Land Rover's journey in India, as we gear up for an electrified future."
The car gets practicality in spades as it get storage space in the front and at the back as the batteries are mounted below and in the middle of the car for better weight distribution and performance. The SUV sits quite high above the ground, makes 400 PS and shattering 696 Nm of torque which should give instant acceleration. The vehicle is fitted with the state-of-the-art 90 kWh Lithium-ion battery that delivers aforementioned power and torque numbers.
Jaguar Land Rover India had opened bookings of its all-electric Performance SUV, the Jaguar I-PACE few weeks back. The 90 kWh Lithium-ion battery comes with 8 years or 160 000 km warranty. Additionally, I-PACE customers will benefit from complimentary 5 years service package, 5 years Jaguar Roadside Assistance, as well as a 7.4 kW AC wall, mounted charger. The I-PACE will be offered in three variants that include S, SE, and HSE.
Jaguar Land Rover is committed to providing a worry-free EV experience to its customers. And for this, Jaguar Land Rover has already tied-up with Tata Power to provide office and home charging solutions to customers of I-PACE. Further, Tata Power as part of its 'EZ Charge' EV Charging network, has installed 200+ charging points across the country. These are present at convenient locations like malls, restaurants, offices, residential complexes and along the highways. Jaguar customers will have access to this fast-expanding 'EZ Charge' EV Charging network of Tata Power.
JLR India already has a lot of models to offer an electrifying all of them and bringing new products means strengthening its product portfolio and competing with the segment leader Mercedes-Benz in a similar fashion and taking on another manufacturer in the luxury segment such as Volvo, BMW, Audi and Lexus. Here, I-Pace will go against the likes of Mercedes EQC which was launched incoming BMW iX3 and Audi E-Tron along with Polestar from Volvo and something from Lexus is on the cards too!
Read this too: JLR India beats Audi India in sales
Read this too: Art of Performance Expirience
Read this too: 2020 Jaguar XE Launched in India
Read this too: 2021 Jaguar XF Facelift Revealed
Read this too: 2021 Jaguar F-Pace facelift
Read this too: 2021 Jaguar J-Pace
Read this too: 2021 Jaguar E-Pace
Read this too: 2021 Land Rover Defender
Read this too: 2021 Range Rover new straight six engines
Read this too: 2021 Range Rover 50'th anniversary
Read this too: 2020 BS6 Land Rover Discovery Sport
Read this too: 2021 Range Rover Velar
Read this too: 2020 BS6 Land Rover Range Rover Evoque
Read this too: Jaguar F-Type Facelift 2021 Launched in India