Polo 180 TSi 5-Door is likely to get the international 1.4 TSi engine and could taken on Fiat Abarth in India
Ohh boy! And we all thought that Volkswagen was done with the idea of introducing a hot hatch in the country. The expensive price tag, the limited amount of numbers and the biggest engine under the smallest car that it can plonk, was done. Looks like all of this was the beginning. Polo as an international model has all the options of engine and gearboxes to choose from. Right from the 1.0 litre petrol to the 1.8 TSi motor which is the GTi as we all know it.
However, there are models that the manufacturer sells worldwide and one of them is called the 180 TSi. Depending from market to market, there are some changes to make sure that it fits the bill right when it comes to fitting in the stable and also go against the competition. Let's get into the details of the car and what we can make out.
Polo 180 TSi 5-Door Design and Dimensions
The most important here is to notice that this car is going to be a 5-door layout and not a 3-door one. The car seen here hasn't got any go fast bits attached to it. We can expect subtle changes to the alloys, stickering and other aspects of the car to make it stand out. Source confirms that there were no changes to the front when compared to the regular Polo. Dimensions are also most like to stay the same. The length, crucially, will be under four meters.
Polo 180 TSi 5-Door Chassis, suspension and brakes
We can expect changes to the chassis to an extent. Suspension could be stiffened and prepared for Indian conditions. All of this will be done to tackle the extra horses over the regular 1.2 TSi variant. Brakes could be disc unit's all around.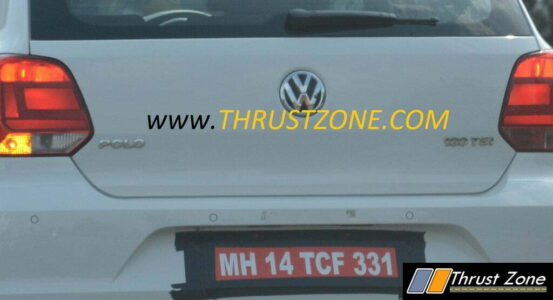 Polo 180 TSi 5-Door Interior and Features
Same high quality interior that we are used to with the Polo will come here. We expect all black interior with swanky seats (race one's? Most likely!). Features list will include everything what the Polo already has plus we can expect a parking camera and other goodies thrown in to make sure it is worth the extra money.
Polo 180 TSi 5-Door Price and Launch
This could be something that could begin with a price tag of 12-13 Lakhs. These figures could be on-road or ex-showroom. If either of this happens, it is already a win-win situation for most enthusiasts who want to buy it anyway. Launch could be done within a year's time.
Polo 180 TSi 5-Door Engine, Gearbox and Mileage
To keep the price in check, and go the way it has done earlier with the 180 TSi variant worldwide is by using the 1.4 TSi motor. The motor is found on various Volkswagen models today as we speak. Right from the Beetle to the Audi A4. The motor could make 150 BHP and 250 Nm of torque. The turbocharged could actually come with a manual gearbox to keep the cost's in check. Something that we saw with the Octavia that was launched in 2013.
Expect 14-15 km/l claimed fuel efficiency numbers. Performance numbers could be segment best and 0-100 km/hr can be done under 8 seconds. Second option is that we could get a manual variant with the 180 PS tune and the same 1.4 TSi motor. Details are sketchy on this part, but they could be India specific this time around, considering the GTi launch is already done.
Polo 180 TSi 5-Door Safety
ABS and dual airbags are now standard on all trims of the Polo. No questions that it will come here as well.
Polo 180 TSi 5-Door Competition
Fiat Abarth
Read this too: AUDI A4 TDI SPIED TESTING
Read this too: PASSAT TDI SPOTTED TESTING, COMING SOON!
Read this too: Volkswagen GT TDi 110 PS launching very soon, SPIED!
[review]