Suzuki Intruder 150 vs Avenger 150 detailed Comparison will tell you how are both on various parameters and how they end becoming similar on various counts as well!
This can be easily termed as a surprise. Good or bad is up to you to decide. When Bajaj gave us the Avenger 150, it was surely a surprise. The idea worked and clicked with prospective consumers and did a great job at reviving the sales of the Avenger series. The idea wasn't radical, but a smart one, a decision that was made to increase volumes and make the brand ever so stronger despite presence since a year and because it was also being sidetracked thanks to new launches in the sporty motorcycles that were being launched. Suzuki has done pretty much the same.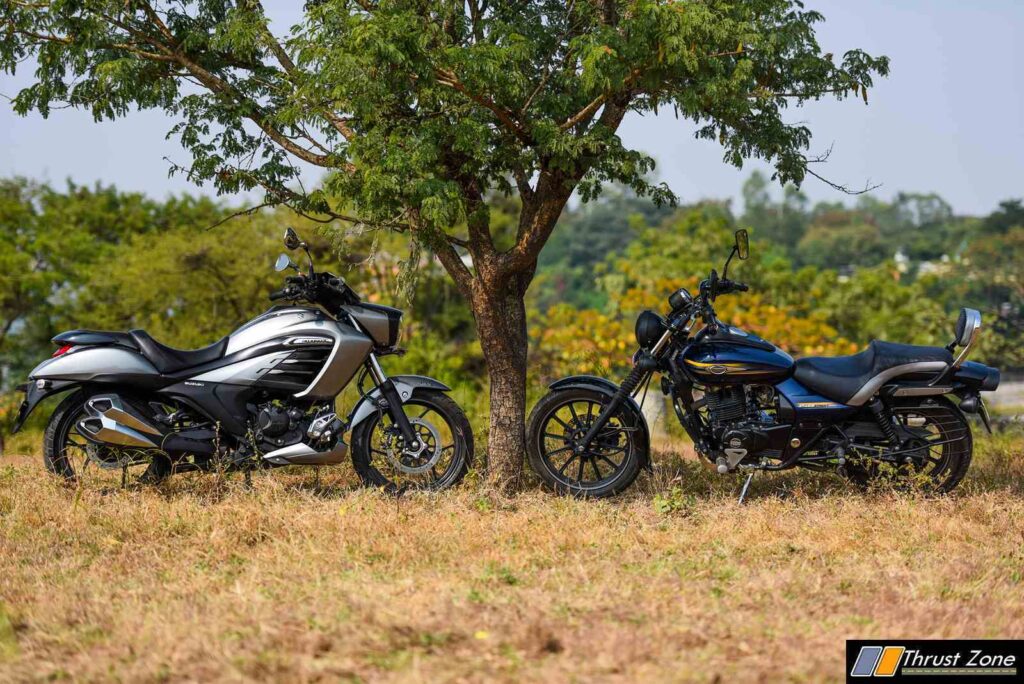 It was concentrating very much on a particular segment and it was the scooters. It gave commuter motorcycles, but they never picked up despite being quite unique. In comes the Gixxer series in a host of options and changes the market dynamics and changes everything. Targets the Pulsar series bang on and now it wants to do the same with the Avenger series and is launching the much talked about the Intruder series in India. With a 150cc motor in the cruiser, the company calls it a modern cruiser and teases the Bajaj Avenger at its own game because it has been ageing. We put them back to back to give you a sure shot answer.
Design
Let's cut to the chase at the Intruder 150. We like the front headlight and rear tail-piece and a very futuristic exhaust pipes. We are clearly not a fan of the side panel which is huge and inspired less by its elder sibling but more like a Kawasaki ZX-14R! Avenger, on the other hand, has a traditional cruiser layout when it comes to tail-piece, front headlight which is round unit and exhaust is made to look more modern and well finished.
The wheels are chunkier on the Avenger and so are the tyres. The Intruder has the same fat tyres and suspension and are a direct lift from the Gixxer and do like a bit plain in comparison. Tail-light is very simple on the Avenger, while the Intruder gets a LED unit which makes it stand out. Headlamp also has a LED white DRL to add to the cool list and expand the feature list, which in 2017, is essentials. Overall, Avenger 150 continues to be a sane choice, but you can buy the Intruder 150 if you like funky which grabs way too much attention.
Speedo and Switches
Intruder clearly outdoes Bajaj Avenger 150 with better switches and cluster as well. Intruder 150 gets everything from Gixxer in this area and has a loaded instrument cluster with all sorts of information such as gear position indicator, clock, digital tacho, odo and trip meters on offer along with many other options. Avenger 150 cluster comes with a trip meter, speedometer, and a clock and is devoid of everything else Intruder has to offer.
Ergonomics
Both bikes have soft seats, front seat footpegs and handlebars which are wide that make things easier in the city while feeling sporty. Low seat height is another boon. RVM on both cruisers are placed well. Avenger offers a backrest for the pillion which is devoid on the Intruder 150. Avenger also offers a better seat for its pillion.
Performance
It is something to note really well is that the Bajaj engines have gone high on refinement since the BSIV emission has rolled out. They are almost comparable to the Japanese rival and here the Avenger 150cc is almost on par with the Intruder 150cc. There are some vibrations, but negligible. However, the Intruder is completely free of NVH issues and vibrations to be precise.
The Intruder has a higher spec on paper at 14.8 PS and 14 Nm of torque vs the Avenger 150 which has 14 PS of power and 12.5 Nm of torque. The Intruder is quicker off the line and has a far punchier mid-range. Top-end is also enough and the motorcycle does 90-100 km/hr with relatively less stress. Avenger does provide a bit less performance in comparison but does not lack rideability. Cruisers are rarely accounted for their performance and here it is more relatable. Their 150cc performance counterparts are already here for an enthusiast to fight the performance battles.
Slightly short gearing on the Intruder vs the Avenger has taller gearing and lower numbers almost equal in most regard. 0-100 km/hr in both bikes is done in a slow 15 seconds ballpark. Fueling on both bikes is good, but the Gixxer feels more enthusiastic and sporty in nature with a crisp throttle response. Something that the Avenger also has, but does feel more commuter like. Both bikes have carburetor fueling system on their engines. Overall, both will do regular duties well, but it is the Intruder that feels sportier.
Dynamics
What is immediately apparent in the corners is the fact that the Intruder is more chuckable and compact and feels sportier to ride. This is due to a massive difference in the wheelbase of 80 mm over the Avenger. Ride quality is good on both bikes for our roads, but the Avenger does take our roads well and in return feels extra secure and stable at highway speeds. It does remain agile, but not in comparison to the Intruder though in the corners. The Intruder with its stiff suspension feels sporty to ride with its less rake angle by a good margin and yet provide enough highway stability. Both cruisers are nimble at city speeds.
Tyres are better on the Intruder 150 and the MRF tires and soft rear suspension on the Avenger 150 do limit the fun. Brakes are a bit commuter-ish in terms of feel but have enough power to stop at any speed on the Avenger. Intruder 150 brakes well with a bit more bit and progressive power which is well delivered but could have been better. The inclusion of ABS on the Intruder is a great move, which continues to be a single channel unit. Overall, the Avenger 150 is almost nicked in this area by the Intruder 150
Suzuki Intruder 150 vs Avenger 150 Comparison, Verdict
The Intruder 150 has everything you will ever need and if you can spend a huge RS. 18,000 more over the Avenger 150. Something that isn't sporty but does the job the same way as the Intruder would do if you do not have any demands.
If you have demands, you go can with the Intruder because just like every other Suzuki two-wheeler, it is enthusiast choice and the winner of this test. What remains a hit or a miss with the Intruder is the styling. If you cannot, the Avenger 150cc Street is the next best choice. You can also wait for the new Avenger that is coming two months time which should take the game even further.
For now, Intruder has invaded the space and has won the battle against the Avenger. The question is, who will win the (Infinity) War?
Avenger 150: Ex-showroom price in Mumbai Rs. 80,435
Intruder 150: Ex-showroom price in Mumbai Rs. 98,340
Read this too: 2017 Pulsar 180 BSIV review!
Read this too: 2017 PULSAR RS200 BSIV REVIEW
Read this too: 2017 PULSAR NS200 BSIV REVIEW
Read this too: 2017 PULSAR 220 BSIV REVIEW
Read this too: 2017 PULSAR 150 BSIV REVIEW
Read this too: 2017 PULSAR 135 BSIV REVIEW