Bajaj Pulsar is set to get a big generation change in the year 2021 or 2022. However, that is not stopping Bajaj to incorporate new features in their existing high selling motorcycle. The Pulsar 220F is an iconic motorcycle in the motorcycling world which most people swear by even after a decade-plus of existence.
To keep that demand strong, running and happy too, The 2021 Bajaj Pulsar 220F Speedometer gets many additional features for a bike that is so old. A full fuel efficiency parameter including Distance to Empty, current and average fuel economy! This is now part of the similar-looking speedometer when it comes to shape and size.
The fonts and information inside have changed dramatically. However, it already had quite unique features such as air filter choke up light, low battery, side stand warning indicator, neutral and high beam buttons. This addition makes the 220F meet current 2021 standards which are surprising and a rather welcoming move to such an old motorcycle.
Cosmetically and mechanically, there seem no changes, but we will let you know if anything changes by updating this article in the future. These are pictures coming off a youtube channel. We should get an official statement soon on the same from Bajaj very likely om this. Stay tuned!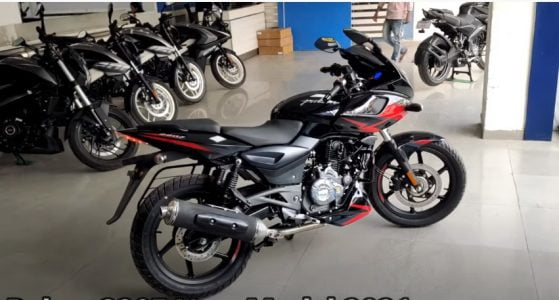 Read this too: BS6 Bajaj Dominar 400 Launched
Read this too: BS6 Bajaj CT100 and Platina ASB Launched
Read this too: 2020 Bajaj Avenger BS6 220 ABS launched
Read this too: 2020 Bajaj Avenger 160 ABS Launched
Read this too: BS6 2020 Pulsar 125 details andall numbers and price list
Read this too: 2020 BS6 Bajaj Pulsar 150 Classic ABS and Neon ABS launched
Read this too: 2020 Bajaj Pulsar NS160 BS6 ABS launched
Read this too: 2020 BS6 Bajaj Pulsar 180F Neon ABS launched
Read this too: BS6 2020 Pulsar RS200 details and all numbers and price list
Read this too: BS6 2020 Pulsar 125 details and all numbers and price list
———————
Read this too: Aamir Khans buys v15
Read this too: 2018 Bajaj Pulsar Festival of speed is back in Third Avatar
Read this too: Bajaj Triumph bike is confirmed to be a 500cc single-cylinder
Read this too: Urbanite codenamed electric vehicles coming
Read this too: Avenger 400 is a dream that come true some day – rendering and speculations