Audi Three Cylinder Engine Production Begins
Audi Three Cylinder Engine production starts in Hungry and will make it to the 5 small cars that Audi sells worldwide
Series production of the first three-cylinder engine starts today at Audi Hungaria. The 1.0-liter gasoline engine delivering 63 and 85 kW (86 and 116 hp) is efficient and powerful.
The three-cylinder engine is efficient and environmentally compatible, for instance the high-performance turbocharger with close-coupled gasoline particulate filter. This reduces particulate emissions from direct-injection gasoline engines by up to 90 percent. The three-cylinder engine weighs 92 kilograms (202.8 lb) and will be fitted in various Volkswagen Group models, for example Audi A3, Volkswagen Golf, SEAT Léon und Ateca.
Audi Hungaria modified the mechanical processes and assembly line for production of the three-cylinder engine. Employees can now produce four different engine variants at the same time on what is now the most flexible engine assembly line in the Audi Group. In addition to the new three-cylinder engine about to be launched, this is also where the 1.2‑liter, 1.4-liter and 1.5-liter four-cylinder gasoline engines roll off the assembly line.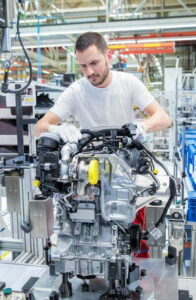 6,000 employees in Engine Production produce around two million engines per year, making us one of the world's largest engine manufacturers. Audi currently produce three, four, five, six, eight and ten-cylinder engines and supply 32 production locations in the Volkswagen Group. This year, Audi Hungaria's engine production portfolio will be expanded to include future-oriented electric motors. Preparations for the start of series production are in full swing.
Read this too: Audi Employees Help Save company 33 million euros
Read this too: Audi Q5 – 3 reasons to buy
Read this too: Audi employees use exoskeleton
Read this too: Audi service packages on offer in India
Read this too: Audi A7 India launch soon
Read this too: Audi merchandise in India
Read this too: Audi R8 RWS launched in India
Read this too: Audi Completes 10 years in India – Special Edition
Read this too: Audi merchandise in India