Enchanting –
160cc bike has a stance of a quarter litre
Superlative chassis, brakes and engine
Comfortable, easy and sporty to ride
Unsatisfying –
Rear disc brake missing, period
Call it a super commuter or a sports commuter. A motorcycle with low displacement but with sporty intentions, design and chassis is making headlines nowadays. The manufacturers are beefing up their game and the tyre size of these motorcycles as well. Bajaj with Pulsar has always been at top of this game and it continues to do so. However, it does that with 200 cc plus motorcycles. The manufacturer now wants to go down the chain and make sure it reaches an audience that is far more approachable and the product, that should be approachable for them as well.
NS200 came, went and came back. AS200 came and went. NS160 is now here and Bajaj is betting big. It has no fear of cannibalization at any stage despite a large motorcycle base in that price category. Bajaj believes a customer knows what it wants and hence the price and performance ratio being very near to other products won't let people stop buying the new NS160. A segment which is growing up thanks to and surprisingly first step by the conservative Japanese companies. Started with the FZ then came the Gixxer and the Hornet 160R. How is the NS160? We rode it for brief time and we can tell you things about it.
Design
Styling wise, the NS160 is near identical to the NS200. Everything is the same. The large tank, its extensions. seats, headlight and everything looks downright indentical. The distinguish is that the moment you come closer to the motorcycle, it looks slimmer and thinner as if the motorcycle went through a surgery and lost some serious weight and now you can see more bones and less flesh.
Everything is the same in very aspect and hence it should gain same level of attraction as the NS200 which, thanks to the 2017 livery that we saw on the elder sibling, which can also be seen here, makes it stand out. Grey test bike with black decals did make it look great on a gloomy day that was our testing weather for this bike.
Speedo and Switches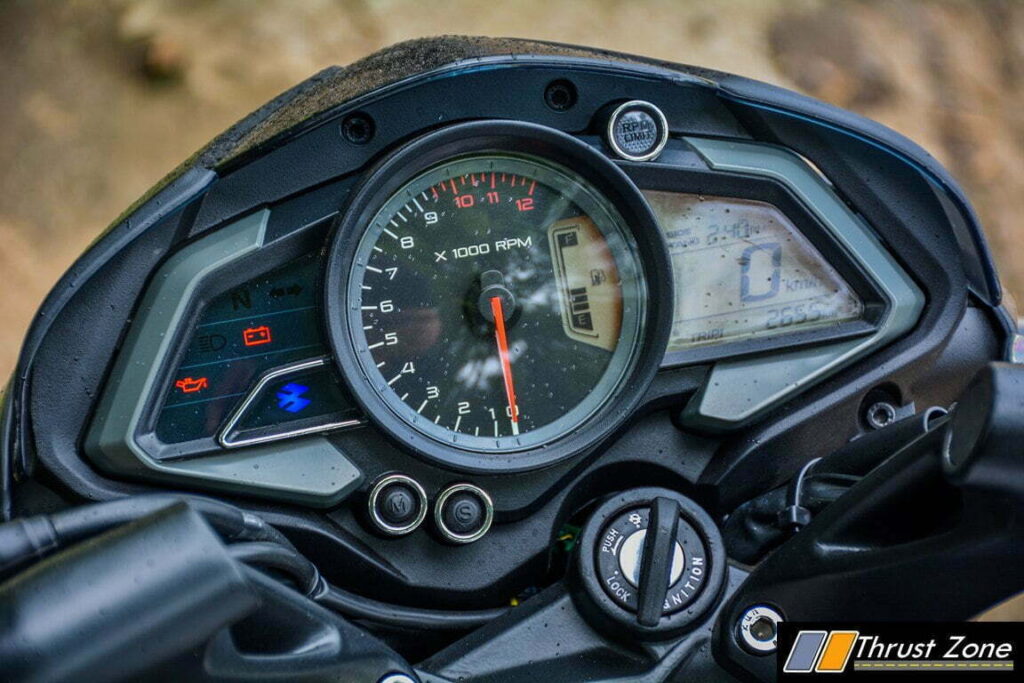 Cluster remains identical as before. Analogue tachometer, digital speedometer are on offer. Two trip meters, clock, tell tale lights such as battery warning, service indicator and much more is provided as before. Switches are blue back-lit with the new generation Pulsar's is seen here. The quality is good, they feel great in operation with and without gloves. Mirrors are well positioned but the stalks are bit lower, they need to be raised because the clip-ons are quite low where the ORVM's are mounted.
Ergonomics
Ergonomics are good as you get a upright riding position. However, the bars are set a bit low than the seat which makes sporty in terms of feel and ride. Seats are very comfortable and supportive and do a great job. Pillion seat is very good as well with well mounted pegs for the same. Rider foot-pegs are set low and rear which makes it sportier to ride. Tall and short riders, both should be fine with this bike. Tank allows for a very thigh grip and helps in cornering well. Tall riders can complain about the same.
Engine and Gearbox
Performance comes from a long stroke 160cc over the previous 150cc unit. The motor now makes 15.5 PS of power and 14.6 Nm of torque. 4-valve, oil-cooled unit just about makes enough low-end torque to deliver good rideability. Mid-range and top-end power is good by segment standard. Taller gearing allows that aspect to shine even better. 17.13 seconds to 100 km/hr is quick enough and it tops out at 117 km/hr. These are numbers that our testing equipment delivered. Engine throughout the time was extremely refined and those are good signs from Bajaj nowadays.
Nowhere in the rev-range the vibration will irritate you. There is vibes at the seat, pegs and bars but they are completely negligible. Redline the engine and still it doesn't get worse in terms of NVH. The motor does sound more commuter rather than sporty which is a downer though. Bajaj has preferred refinement over sporty behavior which is good thing. Sport intentions are only left for the chassis part and that is even better.
Gearbox was good enough but it was mildly clunky. We think it was just our test bike which had this particular issue. Clutch was light and good progressive feel to it. Overall, Bajaj has mastered the 150cc engine and now, slightly above it as well. Refinement and power over the cost of sportiness seems to be the right balance to go ahead.
Ride and Handling
When we told you above that Bajaj has left the chassis do the talking in a sporty manner, it truely does. The chassis is the biggest highlight of this package. A 200 and 400cc bike sharing the same chassis with a 160cc unit is always good news. The slimmer tyres is something you won't like when compared to the competition. However, the chassis holds it for you and so does the swingarm and suspension, all are slightly less in diameter (springs of the forks, monoshock and swingarm are slimmer than the NS200).
Corner at the limit and surprisingly the tyres won't give up. Be it compound or mechanical grip. Upside is that it makes the bike more nimble in the city and agile in the corners. Steering the bike anywhere is plain effortless and the confidence levels are also high while doing so. The weight of the front has been taken away. Turn-in isn't super sharp thanks to the wheelbase and rake, but that help in high speed stability.
Cross-winds mildly shake the front-end but nothing scary, like say, the last generation Apache. Ride quality is excellent with good compliance while being sporty to ride. Braking is good too and the bite is enthusiastic despite Endurance caliper and master-cylinder used instead of Brembo's. Overall, a unique package in front of the competition but which may not look great on paper, but performs and will probably outperforms its rivals as well.
Bajaj Pulsar NS160 Review, Verdict
This time, Bajaj says the price doesn't help them entirely. But they are confident about the product and they should be this time. Chassis is the highlight, motor is as refined as it gets. Sporty and emotional appeal won't be high with the motor but it will do its job in terms of power, efficiency and performance. Pulsar NS160 is still price on par with its rivals and this time that should make things interesting for premium buyers as they do like to pay a price for a machine which performs well.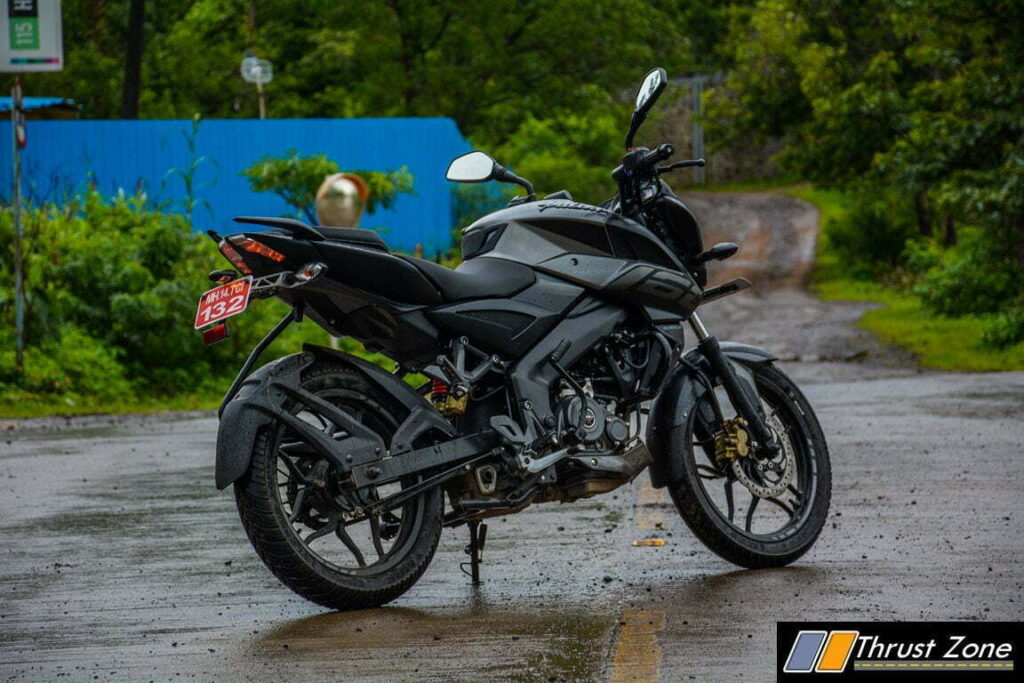 Earlier and even with today's Bajaj's product the price and performance ratio seems too out of the box and people cannot swallow that pill of confusion. With the NS160, Bajaj is heading in a new direction intentionally or unintentionally, is something we will come to know in time. However,we know one thing. NS160 has everything to reach the peak, as it has everything you ever need in a sports/super commuter motorcycle.
Rs. 78,368 ex-showroom Delhi
Read this too: 2017 Pulsar 180 BSIV review!
Read this too: 2017 PULSAR RS200 BSIV REVIEW
Read this too: 2017 PULSAR NS200 BSIV REVIEW
Read this too: 2017 PULSAR 220 BSIV REVIEW
Read this too: 2017 PULSAR 150 BSIV REVIEW
Read this too: 2017 PULSAR 135 BSIV REVIEW