Hyundai i30 India Launch Could Happen will be more premium offering against its global rivals in India
We recently have come across some spy shots of the Hyundai i30 hatchback. It was spied on the outskirts of Chennai. Interestingly, the car was being tested on the Indian soil for the very first time. Now before you get too excited, let us remind you that this car won't likely be launched in our market. That's all down to the segment that this car belongs to. The i30 is a VW Golf rival and yes its bigger dimensions mean it'll attract more taxes. The big hatchback is also propelled via a larger motor, details of which are currently unknown. A bigger engine will also push the car's price higher and hence it won't survive in a market like ours.
What is clearly visible in the spy shots is its resemblance to the Elantra saloon, especially from the front. It is easy for one to mistake it for a facelifted Elantra. The reason is that the car is based on the Elantra platform and carries a lot of visual and mechanical cues. It is possible that Hyundai brought this car for component testing. If Hyundai were to ever launch this car in India, it could be priced similarly to the Creta pushing it into the premium category. The latest iteration of the i30 was showcased at the 2016 Paris Motor Show and was a hit due to its unique styling.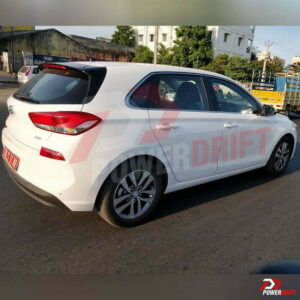 In the foreign markets, the i30 is sold in various petrol and diesel guises. Transmission options vary too. Hyundai has equipped the car with tonnes of features like radar guided cruise control, ABS, driver and passenger airbags, autonomous emergency brake system and much more. Going with the norms it gets a floating 8-inch touchscreen which supports Apple CarPlay and Android Auto. Signature Hyundai design is seen on the interior with swoopy panels and top notch fit and finish. Should Hyundai launch the i30 in India? Could it generate the interest like the other Hyundai's? We would love to hear your opinion about it.
Source: Powerdrift
Read this too: 1.4 petrol engine Verna launched
Read this too: Hyundai Cars With AMT Gearbox coming in 2017!
Read this too: 7-seater version of Creta under works
Read this too: Brazil facelift Creta is what we are getting? Images and details here
Read this too: Eon mild facelift coming before all new model comes – details here
Read this too: Verna spied in India – all spyshots and revealed images here
Read this too: New petrol and diesel AUTOMATIC variants launched of the Creta for 2017
Read this too: Eon sports version to spice things up launched
Read this too: Xcent facelift is radical – Details here from launch
Read this too: Grand i10 facelift is also worth the attention, new diesel motor!
Read this too: New base variant and loaded top variant for Creta launched in April 2017
Read this too: 2017 Elite i20 gets revised feature list and interiors/exteriors
Read this too: Hyundai sells 5 million units in India till date