KRYOTEC Diesel Engine For Tata Harrier is said to be the same as the Jeep Compass unit
KRYOTEC Diesel Engine For Tata Harrier is the new announcement from the company. KRYOTEC is inspired by Cryogenic rocket engine for its power and reliability. It has been benchmarked against global standards of performance and refinement.
This 2.0l 4-cylinder, the next-generation diesel engine is equipped with state of the art engine management system. The exhaust after-treatment systems are tuned to deliver extremely low carbon footprint.
Multi-Drive Modes are a part of Tata Motors product range and the KRYOTEC engine takes it to the next level by marrying the Multi Drive Modes to the Terrain Response Modes of the ESP. The Advanced Electronically Controlled Variable Geometry Turbocharger (eVGT) will ensure driveability to take on any terrain. The KRYOTEC comes with Low Friction Valve Train Architecture and an Advanced EGR to deliver good fuel economy and to meet stringent emission requirements. This engine has been tested extensively on Tata Harrier for endurance under harsh conditions and optimized for performance by pushing it to its extremes.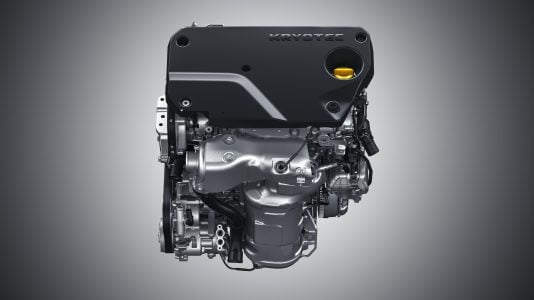 Sporting this new KRYOTEC engine, futuristic IMPACT 2.0 design language and architecture, the Tata Harrier, #BornofPedigree, as Tata likes to call it, will set new benchmarks for SUVs in India when it comes in early 2019.
Read this too: Tata Tiago AMT Review
Read this too: Tata Tiago Petrol Review
Read this too: Tata Hexa Review
Read this too: Tata Tigor Review
Read this too: JD Power Ranks Tata High
Read this too: Tata Nano Hybrid
Read this too: Tata Nexon AMT variants
Read this too: Tata Harrier Details
Read this too: Tata Tigor Buzz Edition
Read this too: Tata Ace Gold details
Read this too: Tata Hexa Downtown variant details
Read this too: Tata Tigor AMT launch details
Read this too: Tata Tiago One Lakh units sold
Read this too: Tata Ultra Trucks
Read this too: Lockheed and Tata getting together
Read this too: Tata Hexa Accessories
Read this too: Tata Zest Safety – 4 Stars