2018 KTM RC390R is something we thought one day would happen because the focused nature of this bike deserved race attention that it finally gets now
Clearly, the competition in this segment has reached an all-time high in every single market of the world. RC390 dominated the moment it came and blew everyone away and today it has tougher rivals and they now finally posses numbers which are quite close now. KTM is now offering a hugely expensive kit to make it sportier, racier and a bit faster as well. However, this is for the track enthusiast and to win their hearts.
2018 KTM RC390R is production run will be limited to just 500 units, with each machine coming from the factory equipped with a collection of hardware upgrades. 2018 KTM RC390R now has fully adjustable WP suspension fore and aft, CNC machined foldable clutch and brake levers, a specially tuned engine, an all-new graphics kit, and new handlebars that allow for an even more committed riding position.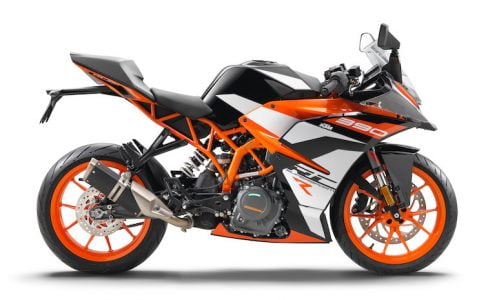 2018 KTM RC390R limited edition kits consist of 230 individual parts designed to make the motorcycle a proper racing bike in its class, as close to hardcore factory bike that is used for racing with another manufacturer, like a MotoGP platform.
The 2018 KTM RC390R 50 kits each include full titanium Akrapovic SSP300EVO02 exhaust system, full race ECU, STM slipper clutch, quick-shifter, wiring harness, an extra set of wheels, an advanced FEBUR cooling system, full bodywork made from unspecified lightweight materials and many gearing options. As one might expect, buying a pro-grade, out-of-the-box racer doesn't come cheap, and each of the 50 race kits cost $13,675 (or 11,000 euros), and that's on top of the bike's five-figure price tag that it already has worldwide. Looks like Ducati V4 price is finally matched, by a KTM! Ducati V4 retails around 20,000 dollars!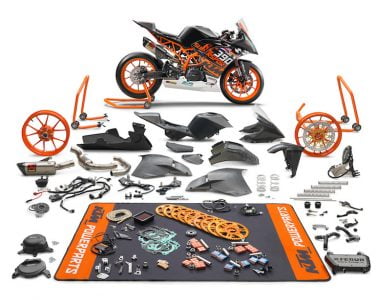 Unfortunately, the new kit is only compatible on the new R-spec 390 and can't be fitted to older RC 390 models. All of this is already most likely out of the question for Indian buyers and enthusiast. But you never know, racing is kicking up in India and you may find buyers for kit worth Rs 10. lakh. A bit ilogical as you get a bike which outperforms the KTM RC 390 with a more powerful motor such as the 700-900cc class of bikes.
Read this too: KTM Duke 390 Review also live!
Read this too: KTM Duke 200 vs Duke 250, Ridden! What should you buy? Sibling Comparison review!
Read this too: KTM Duke 250 Review also live!
Read this too: KTM Duke 250 vs all its rivals in a spec comparison
Read this too: KTM Duke 250 launch report, features list
Read this too: 2017 KTM Duke 200 launch report, features list
Read this too: 2017 KTM Duke 390 Adventure, all the spyshots
Read this too: 2017 KTM Duke 390 launch report, features list
Read this too: 2017 KTM Duke 200 Gets New Tyres
Read this too: KTM DUKE 390 ELECTRIC SPIED TESTING
Read this too: KTM RC250 SPIED TESTING IN INDIA
Read this too: 2017 KTM Duke 390 BLACK COLOR LAUNCHED