Automobili Pininfarina will create luxury electric car and will make a hypercar which will do 100 km/hr in two seconds!
Mahindra today announced the launch of Automobili Pininfarina, the world's newest sustainable luxury car brand. Automobili Pininfarina, promoted by Mahindra & Mahindra Ltd., will be based in Europe. The company will design, engineer and manufacture high technology, extreme performance, luxury electric vehicles for the most discerning global customers.
Automobili Pininfarinawill combine Pininfarina's legendary automotive design prowess with Mahindra's growing electric vehicle (EV) expertise gained from its participation in the Formula E electric racing car championship. Automobili Pininfarina plans to launch its first model, a 'Pininfarina' badged electric hypercar, in 2020.
Automobili Pininfarina will be led by Michael Perschke, as its Chief Executive Officer. Michael brings with him over 25 years of experience with premium German brands at both headquarter director-level as well as in various market roles. He was the Managing Director of Audi in India and a member of the Management Board of Volkswagen Group Sales India, from 2010 to 2013. Michael will play an instrumental role in developing the strategy for Automobili Pininfarina. He will be joined by Per Svantesson as Chief Operating Officer. Per brings with him relevant experience including his stints with the Volvo Group and NEVS. More news as we get it!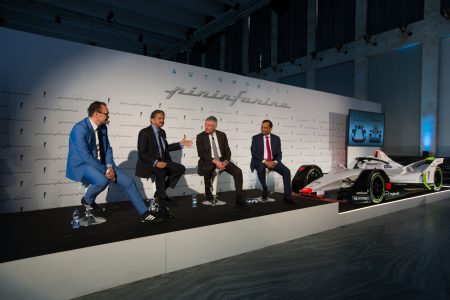 Read this too: Mahindra E20 Plus Get Virtual Reality OnBoard To Make The Experience Of Driving Snazzier!
Read this too: X2018 Scorpio Launched
Read this too: Mahindra Enter USA Market
Read this too: XUV W9 Variant
Read this too: KUV 100 NXT launched
Read this too: KUV NXT automatic details, launching soon
Read this too: 2017 TUv 300 T10 variant launched
Read this too: Mahindra two wheelers concentrate only on premium two wheelers
Read this too: Mahindra electric e-rickshaws
Read this too: XUV 500 gets even more features
Read this too: 2017 TUv 300 modification is all JEEP!
Read this too: KUV CNG variant coming soon
Read this too: Mahindra Y400 is Fortuner Endeavour rival
Read this too: Mahindra-BSA-Jawa plans discussed – Report