Bajaj Dominar Crashes showcases that even with ABS on offer, you cannot avoid collisions. Ride attentively, ride safe
If aren't so new to the internet, you probably already know how Bajaj made a rather funny video series against the Royal Enfield Bullet. If you don't, well it is series of sarcastic videos made by Bajaj Motorcycles, which showcased some of the problems faced by RE owners. This was nothing else but the aggressive marketing of the Dominar 400.
And why are we even talking about it? You ask. Well in one of the videos, Bajaj made sly comments on the reliability of the RE Bullet. Many RE owners tackled by stating that Bajaj bikes too face reliability and built quality issues. And let's be honest, this is a valid statement, Or is it?
A few days ago certain pics of a crashed RE Himalayan were doing rounds online. The rider claimed that the accident took place at average speeds, and even then, the forks and chassis of the Himalayan were damaged to quite an extent. This again brought up questions regarding the quality of RE products.
Well now the same thing has happened with the Bajaj Dominar but this time, Bajaj has the upper hand. Recently few pics of a crashed Dominar have erupted on social networking sites. The bike went head-on into a Maruti Suzuki Eeco and that's how the crash took place. If you look at the condition of the car, it seems like the crash would have been a very bad one.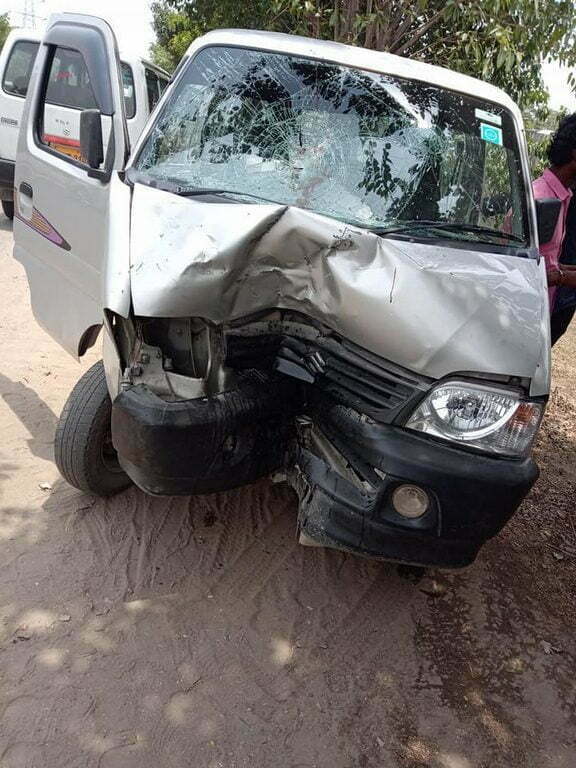 However the bike, on the other hand, tells another story. The bike looks almost alright, the forks bent and the headlamp is crushed. The mudguard too is damaged and so is the belly pan. The mirrors also have taken a hit but they only suffer from minor scratches. The turn indicators popped out due to the impact. Fortunately, the radiator looks like it still is in working condition. The rest of the bike though hasn't been affected due to the crash.
This incident will go a long way to prove that Bajaj Motorcycles India is improving the quality of its cycle parts. The improved built quality means future Dominar owners wouldn't have to worry when buying this bike. We'll love to hear your thoughts and opinion on this topic.
Read this too: 2018 Bajaj making DOHC 400cc engine, 110 motorcycle and updating the Avenger series
Read this too: haathi mat palo advert from Bajaj to tease Royal Enfield
Read this too: DOMINAR 400 Adventure tourer off-roader pictures
Read this too: DOMINAR 400 Matte Black
Read this too: DOMINAR 400 in white and red modified
Read this too: DOMINAR 400 in black and blue is amazing
Read this too: DOMINAR 400 looks like donor, Ducati Diavel
Read this too: DOMINAR 400 MODIFIED INTO A COMPLETE TOURER
Read this too: Modified with all different kind of exhausts, Dominar 400 videos here
Read this too: Dominar kit by Domviel makes it more look MORE DIAVEL like