Bajaj 400 DOHC Engine means that an Apache RR310 rival is coming. 110cc means Victor will be rivalled and heavily revised Avenger series means getting ready for the future
We just heard the news from a Bajaj source who wishes to be anonymous saying that these motorcycles are a 400cc DOHC engine is being developed right now as we speak. 400cc DOHC engine is new because the Dominar uses a SOHC motor and a new DOHC motor means Bajaj could be planning the much awaited 400cc Pulsar RS is coming. There has been a lot of buzz about the same but nothing has been confirmed. This engine news does confirm the same. Also, what our source says that maybe there is a plan for a brand new brand name for this 400 DOHC engine motorcycle. The engine could well reach the 40 BHP mark and will surely come with Bajaj's own ECU, triple spark technology and changes to the gearing.
Bajaj 110cc Motorcycle
Meanwhile, the 110cc premium motorcycle segment is booming. The success for the TVS Victor, Honda Livo and Hero iSmart 110 and proper aligning of this segment means that Bajaj could be the last entrant and try to eat a piece of this market share which is evolving. When it comes to the 110cc motorcycle it could be named as the Discover is what we think, our source suggests it could be given a brand new brand name as well. A 110cc motor which will be made for this motorcycle should offer class-leading performance and fuel-efficiency along with features that should help it stand out. There are reports of it being fuel-injected and have more than 2-valves.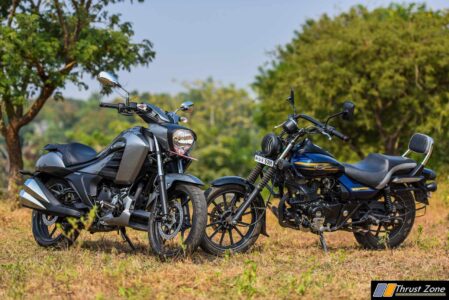 Refreshed 2018 Bajaj Avengers
The threat from Intruder is real and Bajaj after updating the Avenger thoroughly in 2015, is coming back with changes substantial enough that will be noticed. There are going to the inclusion of many features and we think ABS could be offered. Every manufacturer has to launch products now which have to offer ABS before the deadline which is not far away and that is 2019. Bajaj has been proactive and we think ABS will be offered. Avenger 150 could be given more power since the 150cc motor in the Bajaj stable is available with many tunes. Right from 12 PS to 17 PS.
We expect these motorcycle to show up just before Auto Expo or after the same. Bajaj will make sure it continues to stay at the top of the motorcycle sales in the higher capacity segment. A segment it is losing to Honda. A lower capacity motorcycle market is shrinking and by 2020 it will be difficult to keep the smaller motorcycle running because it will become expensive and thus the value for money way of commuting could change and people would end up buying higher capacity engined scooters and motorcycles.
Read this too: 2018 Bajaj Pulsar Black Pack Series released
Read this too: 2017 Pulsar 180 BSIV review!
Read this too: 2017 PULSAR RS200 BSIV REVIEW
Read this too: 2017 PULSAR NS200 BSIV REVIEW
Read this too: 2017 PULSAR 220 BSIV REVIEW
Read this too: 2017 PULSAR 150 BSIV REVIEW
Read this too: 2017 PULSAR 135 BSIV REVIEW
Read this too: 2017 Bajaj Dominar 400 REVIEW
Read this too: DOMINAR 400 VS ROYAL ENFIELD THUNDERBIRD REVIEW
Read this too: DOMINAR 400 VS CBR 250R SHOOTOUT
Read this too: MOJO VS DOMINAR 400 ULTIMATE COMPARISON!/a>