2018 Jaguar F-TYPE Coupe starts from Rs. 90.93 Lakh while the 2.0 l Convertible starts from Rs. 1.45 crores
Jaguar Land Rover India has broadened the appeal of the F-TYPE with the introduction of the famous four-cylinder Ingenium petrol engine. The award-winning F-TYPE now spans from the entry-level four-cylinder model to Jaguar's 322 km/h, all-weather supercar – the F-TYPE SVR. The all-aluminum sports car with the 300 PS and 400 Nm all-aluminum 2.0 l turbocharged petrol motor that has Intelligent Continuously Variable Valve Lift Control, an E-wastegate, and a variable displacement oil pump. delivers power the wheels via an 8-speed automatic.
The Ingenium engine contributes to an overall 2018 Jaguar F-TYPE Coupe weight reduction of 52 kg – most of which is over the front axle – and this is key to the four-cylinder F-TYPE's enhanced agility. The tuning of the chassis to complement the new engine delivers even greater steering response, body control and ride comfort says Jaguar. A finely-tuned active exhaust is standard on entry-level F-TYPE models, while the R-Dynamic variants feature a switchable active exhaust for an even more involving driving experience.
2018 Jaguar F-TYPE Coupe car comes with 355 mm front and 325 mm rear brakes. To give tighter turning and reduce understeer, Torque Vectoring provides controlled independent braking of the inside front and rear wheels during cornering.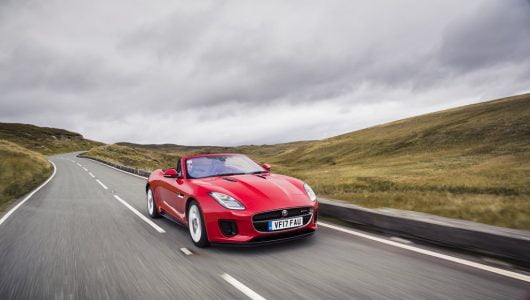 2018 Jaguar F-TYPE Coupe comes with 25.4 cm (10) colour Touchscreen is the single interaction point with the in-car infotainment system. This gives you control over navigation, music, phone, climate and additional driver support systems including parking aids and Configurable Dynamic Mode. Jaguar F‑TYPE now features a 25.4 cm (10) Touchscreen with the standard Touch Pro infotainment system.
Jaguar has dealerships in India through 27 authorised outlets in Ahmedabad, Aurangabad, Bengaluru, Bhubaneswar, Chandigarh, Chennai, Coimbatore, Delhi, Gurgaon, Hyderabad, Indore, Jaipur, Kolkata, Kochi, Karnal, Lucknow, Ludhiana, Mangalore, Mumbai, Nagpur, Noida, Pune, Raipur, Vijayawada and Surat.
Read this too: XE Petrol Reviewed!
Read this too: XF Diesel Reviewed
Read this too: Range Rover Hybrid Details
Read this too: Range Rover Sport Facelift details
Read this too: Discovery Sport SVX details
Read this too: XE Prestige variant launched
Read this too: F-pace wins world car of the year
Read this too: JLR India offers entire list of apparels and accessories
Read this too: Jaguar XE diesel launched in India
Read this too: Jaguar F-Pace Wins womens car of the year award
Read this too: Ingenium petrol engine making 300 bhp annouced
Read this too: Jaguar XJR575 annouced
Read this too: F-TYPE SVR launched in India
Read this too: Jaguar will discontinue v6 and V8 engine soon
Read this too: Jaguar F-Pace India production begins
Read this too: Jaguar E-Pace secures 5 star rating
Read this too: F-pace sales touch one lakh worldwide