Mahindra Marazzo Variants could include an M10 variant with more power, features and slightly higher price tag
Marazzo seems to be talk of the town as the popular design and popular actor on primetime continues to take the vehicle name multiple times. Marazzo seem to have hit the sweet spot in every regard. It is efficient in packaging, refinement is topping the charts, the design seems to be the highlight and pricing seems spot on. Even category sits right between its two rivals, giving Mahindra an advantage like never before.
However, there are something that we can expect even more to make things brighter for the manufacturer, Mahindra. The shortcomings include a demand for more powerful engine, more features, a petrol variant and an automatic gearbox with diesel and petrol engines could change the fortune of this MPV. All of this is coming slowly and steadily hints Mahindra.
We expect to see a petrol engine with similar power figure and the petrol engine will be made by Korean partner of the company. An automatic and manual gearbox option along it should find a lot of garages who are not fleet owners which clock less miles and are upset with high diesel prices which now match petrol as this story goes live. An M8 variant with all of this and what could be an M10 variant could be introduced with the petrol manual/automatic gearbox combo.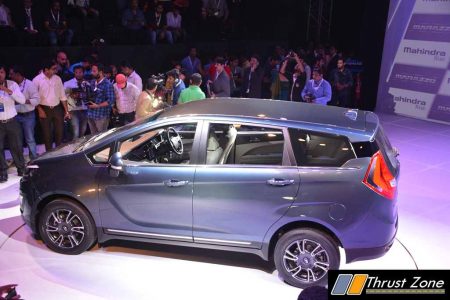 M10 variant that could come with an automatic and manual gearbox for the diesel could do wonders for the brand. More features could include start-stop system, keyless go, auto dimming rear view mirror, sunroof could make it to the MPV. The other thing we all can look out for is the M10 variant with more horsepower and torque in the diesel engine. A need which seems to be required on paper, could make it to the MPV. Stay tuned as we keep you updated on the Marazzo.
Read this too: Mahindra E20 Plus Get Virtual Reality OnBoard To Make The Experience Of Driving Snazzier!
Read this too: X2018 Scorpio Launched
Read this too: Mahindra Enter USA Market
Read this too: XUV W9 Variant
Read this too: KUV 100 NXT launched
Read this too: KUV NXT automatic details, launching soon
Read this too: 2017 TUv 300 T10 variant launched
Read this too: Mahindra two wheelers concentrate only on premium two wheelers
Read this too: Mahindra electric e-rickshaws
Read this too: XUV 500 gets even more features
Read this too: 2017 TUv 300 modification is all JEEP!
Read this too: KUV CNG variant coming soon
Read this too: Mahindra Y400 is Fortuner Endeavour rival
Read this too: Mahindra-BSA-Jawa plans discussed – Report