Land Rover Discovery 2.0 Litre Diesel Engine Launched – Despite CBU, Entry Price Reduced Drastically
Land Rover Discovery 2.0 Litre Diesel Engine Launched is a four cylinder unit. Earlier it was only available in India with 3.0 litre V6 petrol and diesel engines. This makes the Discovery more flexible and accessible
Jaguar Land Rover India, today announced the launch of the 2.0 l diesel derivative of the Model Year 2019 Land Rover Discovery in India, priced from Rs. 75.18 lakh. Available in S, SE, HSE & HSE Luxury trim, the new derivative is powered by a 2.0 l high-powered diesel Ingenium engine producing a power output of 240 PS and peak torque of 500 Nm. This engine is the first Jaguar Land Rover powerplant to feature series sequential turbo technology to deliver its additional thrust.
For 2019, the Discovery 2.0 l diesel offers features to choose from, including Electrically reclining seats, Intelligent Seat Fold, four-zone Climate Control, Powered third row seats, a panoramic sunroof, Cabin Air Ionisation, 360° Surround Camera, Adaptive Cruise Control, Protect and Remote.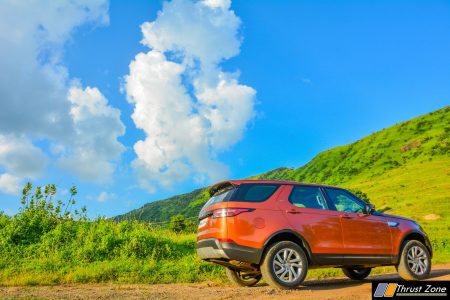 The Discovery has an approach angle (34°), ramp angle (27.5°) and departure angle (30°), a water wading depth capability of 900 mm and a 3500 kg towing capacity. Land Rover Discovery is still an CBU along with the engine that is being used now is also CBU. It will be interesting to see when Discovery goes through the CKD route in the future, the prices will be far more competitive than all its rivals.
Land Rover Discovery 19MY ex-showroom prices
3.0 l Petrol S Rs. 76.94
3.0 l Diesel S Rs. 88.78
3.0 l Petrol SE Rs. 80.78
3.0 l Diesel SE Rs. 96.90
3.0 l Petrol HSE Rs. 84.34
3.0 l Diesel HSE Rs. 102.06
3.0 l Petrol HSE Luxury Rs. 89.38
3.0 l Diesel HSE Luxury Rs. 108.62
Read this too: 2018 XE Reviewed!
Read this too: 2018 XF Diesel Reviewed
Read this too: 2018 Jaguar F-Pace Reviewed
Read this too: 2018 Land Rover Velar Reviewed
Read this too: 2018 Discovery Sport Reviewed
Read this too: 2018 Discovery Reviewed
Read this too: XE Prestige variant launched
Read this too: Art of performance experience
Read this too: Jaguar XJ50 launched
Read this too: Jaguar F-Pace India production begins
Read this too: F-pace sales touch one lakh worldwide
Read this too: F-pace wins world car of the year
Read this too: Jaguar F-Pace Wins womens car of the year award
Read this too: JLR India offers entire list of apparels and accessories
Read this too: Ingenium petrol engine making 300 bhp announced
Read this too: JLR announces Android Auto and Apple Car Play
Read this too: F-TYPE with an 4-cylinder engine launched
Read this too: F-TYPE SVR launched in India
Read this too: Jaguar will discontinue v6 and V8 engine soon
Read this too: Jaguar E-Pace secures 5 star rating
———
Read this too: Range Rover Sport gets a new inline six engine