2018 Amaze Sales Cross 50,000 Units In Record Time thanks to the diesel automatic option and feature list on offer
Honda today announced that its All-New Amaze Sales have crossed 50,000 sales mark in just 5 months since its launch in mid-May 2018. The All-New Amaze has been a hugely successful launch of 2018 and is currently contributing to 50% of total HCIL sales during April – Sept 2018. This is the fastest 2018 Amaze Sales till date for any new model launched by HCIL in India.
The All-New Amaze has attracted more than 20% first time buyers, indicating an increasing aspirational trend among the first time buyers to opt for premium sedans. The car has been well received across markets with 40% sales from Tier 1 cities and 30% each from Tier 2 and Tier 3 cities.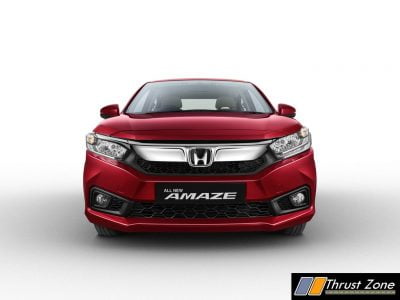 Build on an all-new platform, the All New 2nd Generation Amaze has been developed considering the needs and aspirations of Indian customers. The new Amaze has been developed as a proper sedan from ground-up which makes it the most contemporary sedan in its class. Amaze offers One Class Above Sedan experience with its bold design, sophisticated & spacious interiors, outstanding driving performance, advanced features and safety technologies.
India is the first country to have launched the All-New Amaze. The Peace of mind service offering of All-New Amaze with best in class 3 years Unlimited Kms warranty and Lowest Cost of Maintenance have also been strong appeal points customer's consideration.
Read this too: 2019 CRV Launched
Read this too: Next Generation Brio Showcased
Read this too: Jazz Facelift Launched -2018 model
Read this too: 2018 Honda Amaze Launched
Read this too: next generation City Diesel Automatic coming!
Read this too: Jazz Facelift Launched -2018 model
Read this too: Honda Jet Launched
Read this too: Honda City Celebrates 20 Years in India
Read this too: Honda City Batman Theme Modification Images
Read this too: Honda City Celebrates 20 Years in India
Read this too: WRV Sales Growing Constantly
Read this too: Honda Car Will use two wheeler dealership to grow sales
Read this too: Moblio replacement coming soon
Read this too: Honda Mega service camp
Read this too: Honda Accord Hybrid Launched in India