Audi Associates With Koffee With Karan: The brand is well associated with Bollywood already
Audi Associates With Koffee With Karan for its 6th season. The brand with four rings is ready to up the glamour quotient with Karan Johar on the forthcoming season of the show, which will feature India's most famous celebrities.
Audi completed ten years in India in 2017 and within this short span, the brand has become one of the most preferred luxury car brands for enthusiasts in the country through a progressive marketing strategy. In the last 10 years, brand Audi has been successfully able to achieve the change of philosophy in the Indian market. Audi is now being perceived as being a global brand that is Indianised – from being known as a 'brand with four rings' to 'char bangdi' or 'char chudiya', Audi has successfully entrenched itself in the Indian pop culture.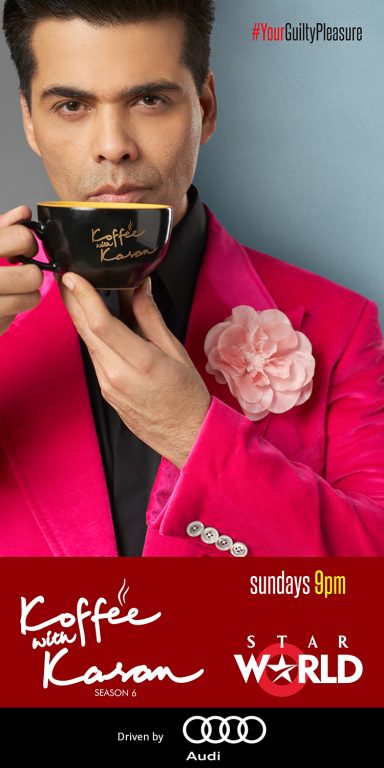 As we know, Koffee with Karan, created in partnership with Star World has become synonymous with Bollywood. The new season will not only bring new and upcoming actors on the couch but will also lead to interesting conversations and fun segments. 'Koffee with Karan' season 6 driven by Audi will launch on 21st October and air every Sunday at 9PM on Star World, Star World HD, and Hotstar.
Read this too: Audi A3 cabriolet Launched
Read this too: Audi A3 Facelift Launched
Read this too: Audi Q3 Facelift Launched
Read this too: Audi A5, S5 BratPack launched
Read this too: Audi Q5 Launched in India
Read this too: Q7 petrol launched in India
Read this too: Audi A4 Diesel launched
Read this too: Audi A7 India launch soon
—-
Read this too: Audi Employees Help Save company 33 million euros
Read this too: Audi Q5 – 3 reasons to buy
Read this too: Audi employees use exoskeleton
Read this too: Audi service packages on offer in India
Read this too: Audi merchandise in India
Read this too: Audi R8 RWS launched in India
Read this too: Audi Completes 10 years in India – Special Edition
Read this too: Audi A8 and A8L India specific details
Read this too: Quattro equipped cars sold 8 million units
Read this too: Audi Q8 unvieled