Sources tell us that the 2019 Bajaj Dominar 400 will be more refined and will continue to be the most fun to ride power cruiser
Bajaj is all set to launch the Dominar in the month of December, very likely say our sources. This means it will be the biggest update in exactly two years of launch. The manufacturer has tasted just about adequate success with its new brand and motorcycle as the product has all the ingredients to be popular with the masses. However, cannibalization within the same family, KTM and probably will face the same with the Husqvarna twins will come as the idea is similar of relaxed but also to have a fun to ride and quick performance.
Nevertheless, it is preparing against the same and the competition from the likes of BMW and TVS who are also offering 300cc bikes with this new update from 2019 Bajaj Dominar 400. USD forks, gear shift indicator added to the cluster, a new exhaust and the existing items such as a slipper clutch, LED lights, MRF tyres and dual-channel ABS will continue to stay.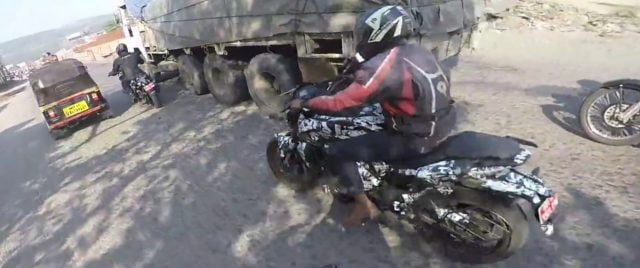 Some people have had to privilege to ride the bikes which are almost ready to be launched say that the bike feels smoother and more powerful but by a subtle margin. Bajaj had tuned the Dominar 400 for a flat torque curve so its only going to be GPS timings which can help examine the real output and how much the acceleration timings have dropped and top-speed has increased. The earlier bike in our test did 0-100 km/hr in 8 seconds and had a top speed of 150 km/hr. The sound of the motor is also slightly distinct and better than before too due to a new exhaust says the source.
Read this too: Duke 390 vs BMW G310R vs Dominar 400 vs Apache RR310
Read this too: Apache RR310 vs Dominar 400 vs KTM Duke 250 Vs RC200 Vs CBR250R – Comparison Shootout

In terms of pricing, we expect a minor increase of Rs. 10,000 which should very likely be fixed (not introductory) because thanks to increasing in registration charges, the on-road price for the Dominar 400 reaches between Rs. 2.0 to Rs. 2.10 lakhs on-road in metros around the country, which makes it good value, but not great when it was launched earlier. Bajaj also has raised its price by Rs 12,000 over the past.
Bajaj is countering this by offering 5-year warranty to make up for the price increase from both ends, which is also a paid option. We expect that to be standard on the 2019 Bajaj Dominar 400. Sources also tell us not to be surprised if a new variant is also showcased or announced at the launch.
Read this too: Post sales experience by owners, service costs etc, all here!
Read this too: Specification, pricing and all other numbers are HERE!
Read this too: 2018 Bajaj making DOHC 400cc engine, 110 motorcycle and updating the Avenger series
Read this too: haathi mat palo advert from Bajaj to tease Royal Enfield
Read this too: DOMINAR 400 Adventure tourer off-roader pictures
Read this too: DOMINAR 400 Matte Black
——————-
Read this too: DOMINAR 400 in white and red modified
Read this too: DOMINAR 400 in black and blue is amazing
Read this too: DOMINAR 400 looks like donor, Ducati Diavel
Read this too: DOMINAR 400 MODIFIED INTO A COMPLETE TOURER
Read this too: Modified with all different kind of exhausts, Dominar 400 videos here
Read this too: Dominar kit by Domviel makes it more look MORE DIAVEL like