Ninja 1000 and Z900 With New Colors are launched in the country as these motorcycles are going to the best sellers for the company and are already doing rather well
Kawasaki Z900, which was earlier available in two colours, is now available in complete metallic spark black colour. Apart from the new colour, the Z900 model year of 2018 has also undergone some graphical changes, which give the naked bike even more eye-catching look. The other two colours helped Z900 to establish in the Indian market and the new colour will give customers one more option to choose.
Z900 in earlier available colours which has given the company good results. Kawasaki Z900 is a Completely Built Unit (CBU) in India, which is produced in Kawasaki Motors Thailand (KMT) currently. The technical specifications and the price of Z900 of 2018 are the same. Based on the response from customers India Kawasaki Motors will evaluate the stock between these colour options.
Sports-tourer Ninja 1000 ABS is Kawasaki's most desirable motorcycle in India right now thanks to great pricing. Up till now this motorcycle was alluring customers with its performance and touring credentials. The new colour change has given the Ninja 1000 ABS more attractive look without compromising on the DNA of Ninja family. To be very specific on the colour change, it has got now new shade of emerald blazed green / metallic carbon grey and metallic spark black/metallic carbon grey. Ninja 1000 ABS, which Kawasaki also calls as "Gentleman's sportbike", is available in India at Rs. 9,98,000 (Ex Showroom Delhi). Ninja 1000 and Z900 With New Colors come just in time for the festive season.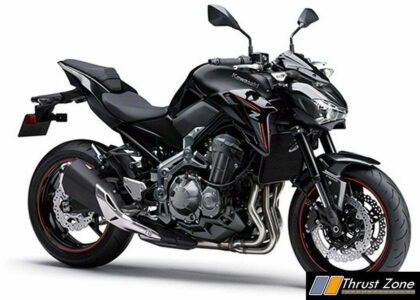 Read this too: Versys 300 coming.. Enough said!
Read this too: Lighter, efficient and better looking all new Z650
Read this too: Z900 REPLACING Z800 AND Z1000, LOOKS HOT!
Read this too: 2017 Ninja 650 just got the upgrade of a LIFETIME!
Read this too: 2017 Ninja 1000 just got competitive in litre class touring
Read this too: KX100 AND KX250 ARE DIRT BIKES THAT HAVE COME TO INDIA
Read this too: ninja 300 gets mechanical changes for 2017
Read this too: 5 new launches from Kawasaki in 2017
Read this too: Kawasaki Z250 launched In India
Read this too: Z1000 and Z1000R launched in India
Read this too: Hyderabad Dealership details
Read this too: Vijaywada Dealership details
Read this too: Chandigarh Dealership details