Audi Thane (Mumbai Area) Service Facility Inaugurated to serve customers of the city better with more reach and faster turn around times
Audi today announced the inauguration of its new state-of-the-art service facility in Thane, Mumbai. Spread over a total area of 32,000 sq. ft., the Audi Service Thane boasts of 22 bays and houses an exclusive state-of-the-art body shop facility. The new service facility will further strengthen the brand's commitment towards customers in Thane and the Mumbai Metropolitan Region (MMR).
Mr. Gautam Modi, Managing Director, Audi Thane said, "This new service facility in Thane will abide by the promise of offering the best of luxury experience which is commensurate with the perfection that the Audi brand stands for. We are looking forward to delight our customers based in Thane and Mumbai and nearby regions with this new service facility."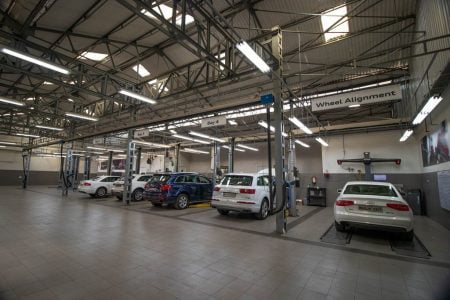 Audi Thane is a service facility, spread across an impressive 32,000 Sq. ft., and meets Audi's rigid standards of technology and workmanship. The workshop has a capacity to service 44 cars per day in a single shift on a total 22 bays. The technicians, trained by Audi, ensure the efficient upkeep of Audi vehicles with approved equipment, tools and technologies to meet the Audi standards.
Read this too: Audi A3 cabriolet Launched
Read this too: Audi A3 Facelift Launched
Read this too: Audi Q3 Facelift Launched
Read this too: Audi A5, S5 BratPack launched
Read this too: Audi Q5 Launched in India
Read this too: Q7 petrol launched in India
Read this too: Audi A4 Diesel launched
Read this too: Audi A7 India launch soon
—-
Read this too: Audi Employees Help Save company 33 million euros
Read this too: Audi Q5 – 3 reasons to buy
Read this too: Audi employees use exoskeleton
Read this too: Audi service packages on offer in India
Read this too: Audi merchandise in India
Read this too: Audi R8 RWS launched in India
Read this too: Audi Completes 10 years in India – Special Edition
Read this too: Audi A8 and A8L India specific details
Read this too: Quattro equipped cars sold 8 million units
Read this too: Audi Q8 unveiled