Honda CBR1000RR-R SP is a brand-new motorcycle, built with an unwavering focus on circuit riding, with unprecedented levels of performance and control. Its inline four-cylinder engine draws heavily on the RC213V-S's combustion efficiency ­and low-friction technologies – while also sharing its bore and stroke; it also features titanium con-rods and forged aluminium pistons. Honda Selectable Torque Control (HSTC) has been optimised and adjustable Start Mode added to Power, Engine Brake and Wheelie Control.
An aluminium diamond frame features a longer RC213V-S-style swingarm, with six-axis Inertial Measurement Unit (IMU), 3-level Honda Electronic Steering Damper (HESD) and Showa suspension front and rear. New Nissin brake calipers bite 330mm discs through 2-level ABS. The bodywork and riding position have an uncompromising focus on aerodynamic performance, and the fairing features MotoGP-derived winglets to generate downforce. A full-colour TFT screen and Honda Smart Key are the finishing touches.
Since its original 1992 introduction Honda's iconic Fireblade has evolved into an incredible 1000cc sports motorcycle. And it's also been the base of a competitive race machine, on short circuits around the world and the roads of the Isle of Man TT.
But time – and competition – marches on, and for 2020 Honda is drawing a line under where the CBR1000RR Fireblade has been, and looking forward to where it's going. Two brand-new motorcycles – the CBR1000RR-R Fireblade and Honda CBR1000RR-R SP* – have been created, with heavy involvement from Honda Racing Corporation, to carry the legend forward.
Leaning heavily on the engine and chassis technology of the RC213V-S 'street-legal MotoGP machine', with aerodynamics drawn from the RC213V MotoGP bike, the new Fireblade has been designed from the ground up scratch – in terms of engine, handling and aerodynamics – for outright track performance.
From a clean sheet, Honda and HRC's development engineers set to work creating a new inline four-cylinder engine for the CBR1000RR-R Fireblade. It's a compact, short-stroke layout – sharing the bore and stroke of the RC213V – and features a semi-cam gear train, finger-follower rocker arms, titanium con-rods, RC213V-S internal friction reduction technologies, piston jets with check ball system and a built-in bottom bypass passage for the cylinder water jacket.
A ram-air duct in the front fairing feeds through the headstock directly into the airbox. The 4-2-1 exhaust downpipes are ovalized and the end-can has been developed in conjunction with Akrapovic. The result? The CBR1000RR-R engine delivers 113Nm @ 12,500rpm and makes peak power of 215 PS @ 14,500rpm.
Throttle By Wire has been enhanced for improved feel and three default riding modes feature options to change Power, Engine Brake, Wheelie Control and the optimised Honda Selectable Torque Control (HSTC). The electronics package also now includes adjustable Start Mode.
A totally new aluminium diamond frame uses the rear of the engine as the upper shock mount; the swingarm is longer and based on the RC213V-S design. The rigidity balance, weight distribution and steering geometry have been carefully adjusted for the increased engine output, in terms of front and rear grip levels, and feel for both.
Showa's 43mm Big Piston Fork (BPF) is matched to a Showa Balance Free Rear Cushion Light (BFRC-L). The front discs are larger in diameter and worked by new Nissin four-piston calipers while the ABS is adjustable for track riding. The rear tyre is now sized 200/55-ZR17.
A six-axis Inertial Measurement Unit (IMU) provides accurate 3D estimation of riding dynamics and provides input to manage all of the electronic systems. It also controls the new rod-type 3-level Honda Electronic Steering Damper (HESD).
Honda's RC213V MotoGP machine has learnt some of its slippery aerodynamics to the CBR1000RR-R, including winglets to increase downforce and improve braking stability. The riding position is also much more compact. The fully customisable 5-inch TFT display offers intuitive control operated via a simplified four-way switch on the left handlebar. Honda's Smart Key system adds convenience.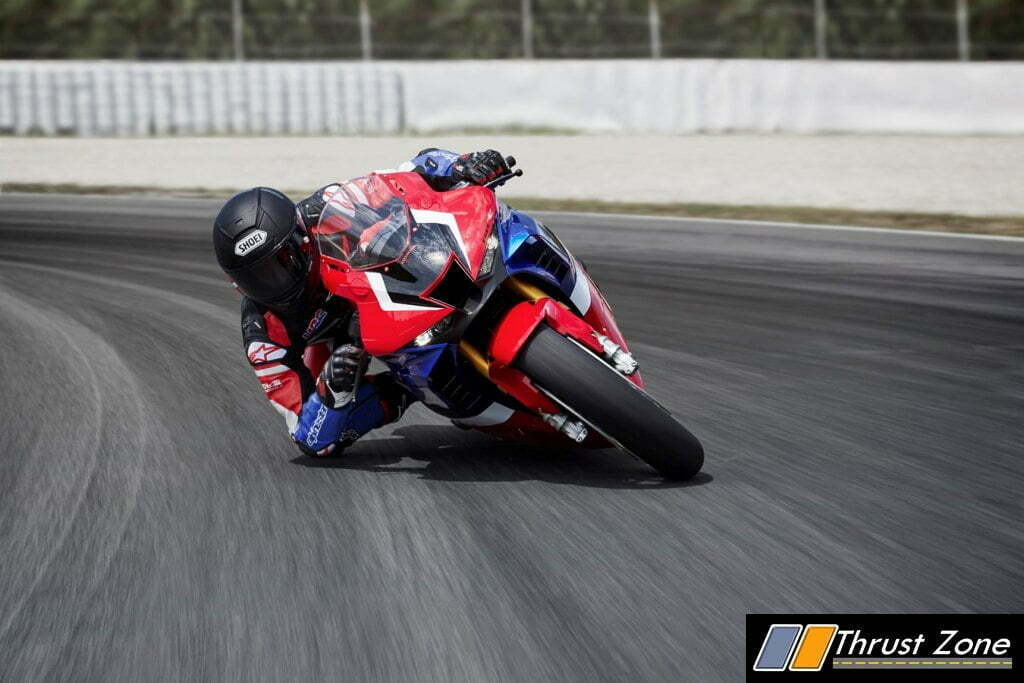 Short-stroke, inline four-cylinder engine produces high output at high rpm
Ultra-compact design due to semi-cam gear train and starter motor driving through clutch main shaft
Internal friction reduced by Diamond Like Carbon (DLC) cam lobes and bottom-bypass water jacket
Finger-follower rocker arms, titanium con-rods and forged aluminium pistons reduce inertial weight
Airbox fed by ram-air duct tunnel through the steering stem
Titanium end-can developed in conjunction with Akrapovic
New aluminium frame and swingarm change weight distribution, centre of gravity and rigidity balance for improved handling and traction
Bosch six-axis Inertial Measurement Unit (IMU) for accurate calculation of machine dynamic behaviour and precise control
Showa 43mm Big Piston Fork (BPF) and Balance Free Rear Cushion Light (BFRC-Light) rear shock offer complete adjustability
Showa's new 3-level Honda Electronic Steering Damper (HESD) controlled by IMU for precise stability management
New dual Nissin radial-mount four-piston calipers managed by ABS with switchable SPORT/TRACK modes
Aerodynamic fairing, screen and mudguard minimise frontal area and reduce drag; lower fuel tank also provides more compact riding position
Inner fairing winglets drawn from the RC213V MotoGP machine reduce wheelies under acceleration and improve braking stability
5-inch colour TFT screen and simplified four-way left-hand switch offer intuitive control of riding systems
Honda Smart Key adds convenience and simplifies top-yoke design