Jaguar Land Rover India First Boutique showroom Inaugurated in Bangalore is aim to connect and communicate with customers in the area
Jaguar Land Rover India today announced the opening of its new Boutique showroom by Marqland at Cunningham Road in Bengaluru. The new facility was inaugurated by Rohit Suri, President & Managing Director, Jaguar Land Rover India Ltd (JLRIL) and Naveen Philip, Director, Marqland.
Located in the heart of Bengaluru, the facility offers better customer access and allows for the display of both Jaguar and Land Rover's portfolio. The boutique showroom is equipped with a digital personalization studio, offering enriched customisation options. Italso showcases and retails the latest accessories and branded goods.
Jaguar Product Portfolio in India. The Jaguar range in India includes XE (starting at ₹ 40.61 Lakh),XF (starting at ₹ 49.78 Lakh),F-PACE (starting at ₹ 64.64 Lakh),XJ (starting at ₹ 102.58 Lakh) and F-TYPE (starting at ₹ 90.93 Lakh). All prices mentioned are ex-showroom prices in India.
• The state-of-the-art retailer facility is spread over a total area of over 446m with display of both Jaguar and Land Rover range
• Located in central business district of Bengaluru at Cunningham Road, it offers ease of access to customers
• Jaguar Land Rover India distribution network is spread across 26 outlets in 24 major cities across India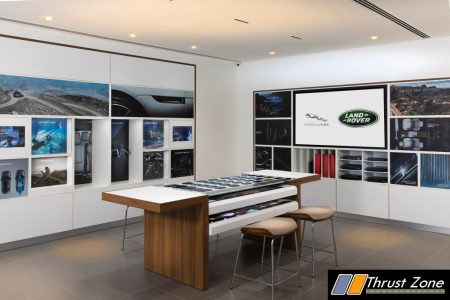 Jaguar Land Rover Retailer Network in India
Jaguar Land Rover vehicles are available in India through 27 authorised outlets in Ahmedabad, Aurangabad, Bengaluru, Bhubaneswar, Chandigarh, Chennai, Coimbatore, Delhi, Gurgaon, Hyderabad, Indore, Jaipur, Kolkata, Kochi, Karnal, Ludhiana, Mangalore, Mumbai, Nagpur, Noida, Pune, Raipur, Vijayawada and Surat.
Read this too: 2018 XE Reviewed!
Read this too: 2018 XF Diesel Reviewed
Read this too: 2018 Jaguar F-Pace Reviewed
Read this too: 2018 Land Rover Velar Reviewed
Read this too: 2018 Discovery Sport Reviewed
Read this too: 2018 Discovery Reviewed
Read this too: XE Prestige variant launched
Read this too: Art of performance experience
Read this too: Jaguar XJ50 launched
Read this too: Jaguar F-Pace India production begins
Read this too: F-pace sales touch one lakh worldwide
Read this too: F-pace wins world car of the year
Read this too: Jaguar F-Pace Wins womens car of the year award
Read this too: JLR India offers entire list of apparels and accessories
Read this too: Ingenium petrol engine making 300 bhp announced
Read this too: JLR announces Android Auto and Apple Car Play
Read this too: F-TYPE with an 4-cylinder engine launched
Read this too: F-TYPE SVR launched in India
Read this too: Jaguar will discontinue v6 and V8 engine soon
Read this too: Jaguar E-Pace secures 5 star rating
———
Read this too: Range Rover Sport gets a new inline six engine