Audi Hyderabad Dealership Goes Live to expand the brands footprint across to gain sales boost and momentum
Audi today announced the opening of its new world-class showroom in Hyderabad. The showroom was inaugurated by Mr. Rahil Ansari, Head, Audi India and Mr. Rajiv Sanghvi, Managing Director, Audi Hyderabad. The entire Audi model range in India will be available at the new Audi Hyderabad showroom.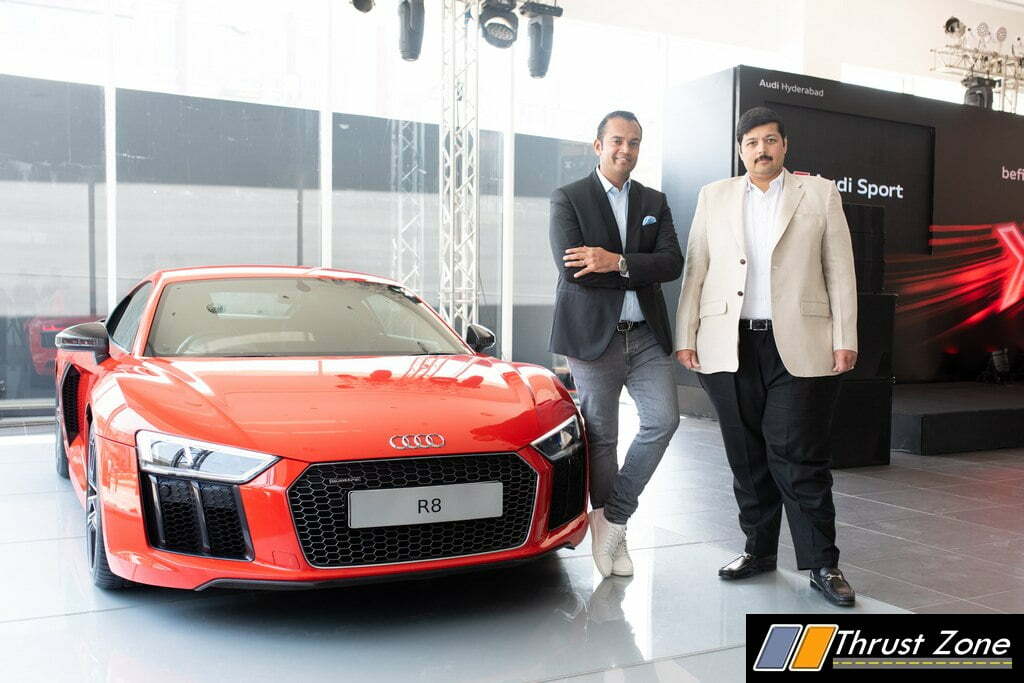 Audi Hyderabad is a world class showroom with a 9-car display and spread across an impressive 12000 sq. ft. according to Audi's global standards. Audi Hyderabad features a progressive lounge set-up with an informal seating, video walls and state-of-the-art interiors, lighting and technology. While the lounge set-up provides customers with a plush and relaxed environment, the display and information kiosks help them discuss and choose the most suitable Audi.
Mr. Rajiv Sanghvi, Managing Director, Audi Hyderabad said "The new showroom will showcase the whole range of Audi luxury vehicles and will provide an experience which will be as per Audi's global standards. The features of the showroom like the unique and striking honeycomb façade, double height ceiling, information and display kiosks exude a true and luxurious feel of the brand and are designed to enhance buying experience with its progressive and luxurious elements."
Read this too: Audi A3 cabriolet Launched
Read this too: Audi A3 Facelift Launched
Read this too: Audi Q3 Facelift Launched
Read this too: Audi A5, S5 BratPack launched
Read this too: Audi Q5 Launched in India
Read this too: Q7 petrol launched in India
Read this too: Audi A4 Diesel launched
Read this too: Audi A7 India launch soon
—-
Read this too: Audi Employees Help Save company 33 million euros
Read this too: Audi Q5 – 3 reasons to buy
Read this too: Audi employees use exoskeleton
Read this too: Audi service packages on offer in India
Read this too: Audi merchandise in India
Read this too: Audi R8 RWS launched in India
Read this too: Audi Completes 10 years in India – Special Edition
Read this too: Audi A8 and A8L India specific details
Read this too: Quattro equipped cars sold 8 million units
Read this too: Audi Q8 unvieled