Kawasaki Vulcan 650S Vs Harley-Davidson Street 750 Specification Comparison sheet tells you how these compare to each other as they are very close to each other
We have been telling you for a long time that one day the Vulcan 650 S will make it to the Indian market and today it has. The most versatile platform Kawasaki ever made has spawned all types of motorcycles. The platform has all bikes with the same parallel-twin 650cc engine which makes around 60 PS of power. Adventure touring, naked, sports tourer and now a cruiser.
The manufacturer has launched it at a good price. However, it has a rival waiting for it here since 2014. The Harley-Davidson Street 750 has had a fair share of hits and misses in the country. While most of it is negative, it does have its positives. Harley has improved it a lot over the years in terms of quality and refinement. Street 750 has a whole host of changes to make it more appealing. Styling wise both are standard and typical cruisers. Long and intimidating in their respective classes, the styling makes them stand out.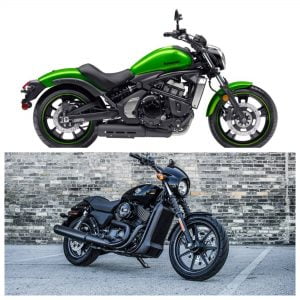 The elements are very different though which makes one look like a traditional cruiser while the other modern cruiser. We are talking about Harley and Kawasaki respectively. From now, it's all about numbers so let them do the talking. Vulcan may fall down on numbers but the Harley doesn't (How American) but Vulcan is based on a platform of engine which is known for its refinement which the latter doesn't. We will bring you a shootout most likely, as in, how they feel to ride. Now soak in the numbers!
Read this too: Street Rod Review India Exclusive!
Read this too: India Exclusive! Harley Fat Bob 2018 model review
Read this too: FLSB Sport unvieled, coming to India!
Read this too: Brand new colors of Street 750 launched
Read this too: 2018 HD Softial range launched in India
Read this too: Harley Concept Store in Maharashtra
Read this too: Sportser range launched
————————-
Read this too: Versys 300 is here.. Enough said!
Read this too: Vulcan 650 launched in India
Read this too: 2017 Ninja 650 just got the upgrade of a LIFETIME!
Read this too: 2017 Versys 650 complete details!
Read this too: Lighter, efficient and better looking all new Z650
Read this too: Kawasaki Z900RS india launch on its way
Read this too: Kawasaki Ninja 400 India bound
Read this too: Kawasaki ZX-10R SE launching in India soon
Read this too: Kawasaki Z250 launched In India
Read this too: 2017 Ninja 1000 just got competitive in litre class touring
Read this too: ninja 300 gets mechanical changes for 2017
Read this too: Z1000 and Z1000R launched in India
Read this too: Hyderabad Dealership details
Read this too: Vijaywada Dealership details
Read this too: Chandigarh Dealership details
Read this too: KX100 AND KX250 ARE DIRT BIKES THAT HAVE COME TO INDIA