Bajaj wants to offer more value to its customers in front of the Intruder 150 and hence will shut down the Avenger 150 and introduce 2018 Avenger 180
If there is someone behind Bajaj when it comes to offering value and performance at the same time, it is Suzuki two-wheelers who is doing so. Using all their powers and help from the four-wheeler division in one or the other. Suzuki launched the Intruder 150 and put it right against the Avenger 150 which was also a new introduction to the ageing brand.
Read this too: BREAKING! (2/1/18) – 2018 Discover 110 and 125 Spied for the first time, just as we told you!
Intruder offers so much more but also does ask more money for it as well. ABS and wholesome styling along with more power and torque from the engine. Bajaj had to reply and it is doing so right now. 2018 Avenger 180 will make its way for the Bajaj Avenger 150 and will offer more capacity, performance and our sources say that the Avenger is set to get the whole host of features to make it stand apart.
Read this too: 2018 Bajaj making 400cc engine, 110 motorcycle and updating the Avenger series
With the 2018 Avenger 180, the cruiser will get the tried and tested 180cc 2-valve air/oil cooled engine which will be BSIV compliant. The manufacturer has been producing this engine for the last 17 years. The host of changes will include making power and torque more than the 150cc Avenger while retaining far away from the 220cc. We expect it to make around 15-16 BHP of power 14-15 Nm of torque.
Read this too: Bajaj Avenger 150 vs Intruder 150 Comparison Shootout!
This puts against the Intruder 150cc and while asking a price very similar to the Avenger 150, this should solve Bajaj's worries on paper against its rival. The Intruder 150cc now retails at RS. 98,000 odd against the Avenger 150cc which retails at Rs. 80,000 odd.
We expect the pricing to go by Rs 5,000 or more for 2018 Avenger 180 and provide more value while getting close to the Intruder price and value bracket. We can expect ABS as well but that should take the price even higher as ABS could be optional right now. Single channel ABS is what our source suggests is going to come because that is the best way of providing utmost safety with value quotient not going wrong. Stay tuned for more details!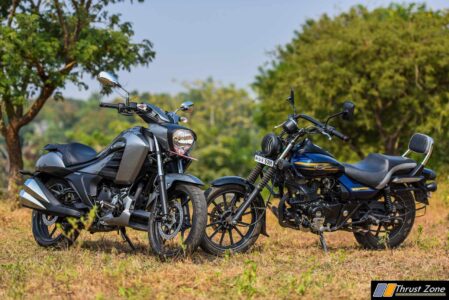 Read this too: 2018 Bajaj Pulsar Black Pack Series unvieled
Read this too: 2018 Bajaj Pulsar Festival of speed is back in Third Avatar
Read this too: 2018 Bajaj making 400cc engine, 110 motorcycle and updating the Avenger series
Read this too: Aamir Khans buys v15
Read this too: CT100B launched worldwide
Read this too: Bajaj Triumph bike is confirmed to be a 500cc single-cylinder
Read this too: Urbanite codenamed electric vehicles coming
Read this too: Pulsar NS160 launched, full details
Read this too: Avenger 400 is a dream that come true some day – rendering and speculations
Read this too: Pulsar RS200 details and all numbers and price list
——————————-
Read this too: Pulsar NS160 Review
Read this too: Bajaj V15 Review
Read this too: Bajaj V12 Review
Read this too: Bajaj V12 vs Shine SP Review Comparison Shootout