Despite the 1.6 litre gone, the Maruti S-Cross continues to be our favorite because of its practicality and well built crossover character that it inherits
Maruti Suzuki S-cross holds a significant importance for the company. S-cross has got an extensive update last year and since then, the crossover is performing well in terms of overall sales per month. We have been driving the S-Cross for quite some time and find it exceptionally well after using it for 7,000 kms.
The facelift S-cross looks far more appealing than its older version and addition of new 16" alloy wheels have made sea level of difference in its aesthetic value. Projector LED headlamps with DRLs, bold chrome grille, aggressive face, and tastefully designed rear make the S-cross a handsome proposition. Cabin quality is best among the Maruti cars and although it shares some parts with siblings, the ambiance feels quite up market.
We have been with us the top-end Alpha variant which comes equipped with the SmartPlay infotainment system, Apple CarPlay, Android Auto, reverse camera parking system, cruise control, powered ORVMs, and auto headlamps. On the safety front, the S-cross gets dual safety airbags and Anti-Lock Braking System as a standard part of the equipment.
Maruti has discontinued the larger 1.6-liter diesel which means now the S-Cross can be had only in a 1.3-liter variant with an output of 90PS and 200Nm. The performance is not scintillating but then it is not meek either. For all the routine work and highway runs, the engine delivers more than what is required. Yes, we would have liked more power and the addition of 6th gear but even as the things stand now, an average buyer won't grumble about this existing engine-tranny combo.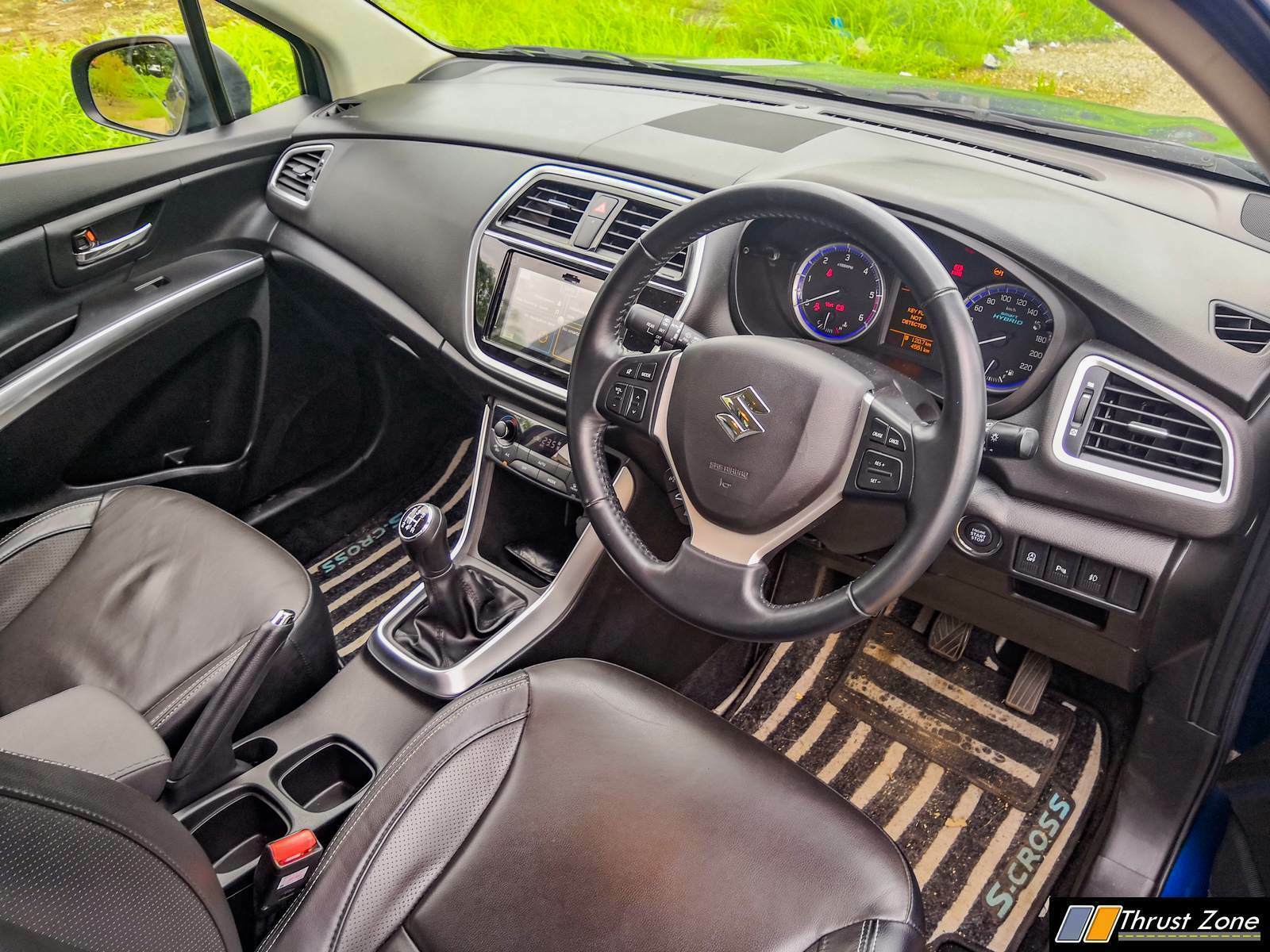 The most likable thing in the whole S-cross package is its amazing ride and handling capabilities. The ride is not firm and quite absorbent and that too without compromising on the highway stability. It also quite easy to live with in daily city traffic with light controls. We were getting fuel-efficiency of around 14-16 kmpl combined from the car. Overall, we are impressed, we miss the 1.6 litre and we can still recommend you to get this crossover which uniquely sits in the Indian car market with its pricing, build quality and practicality.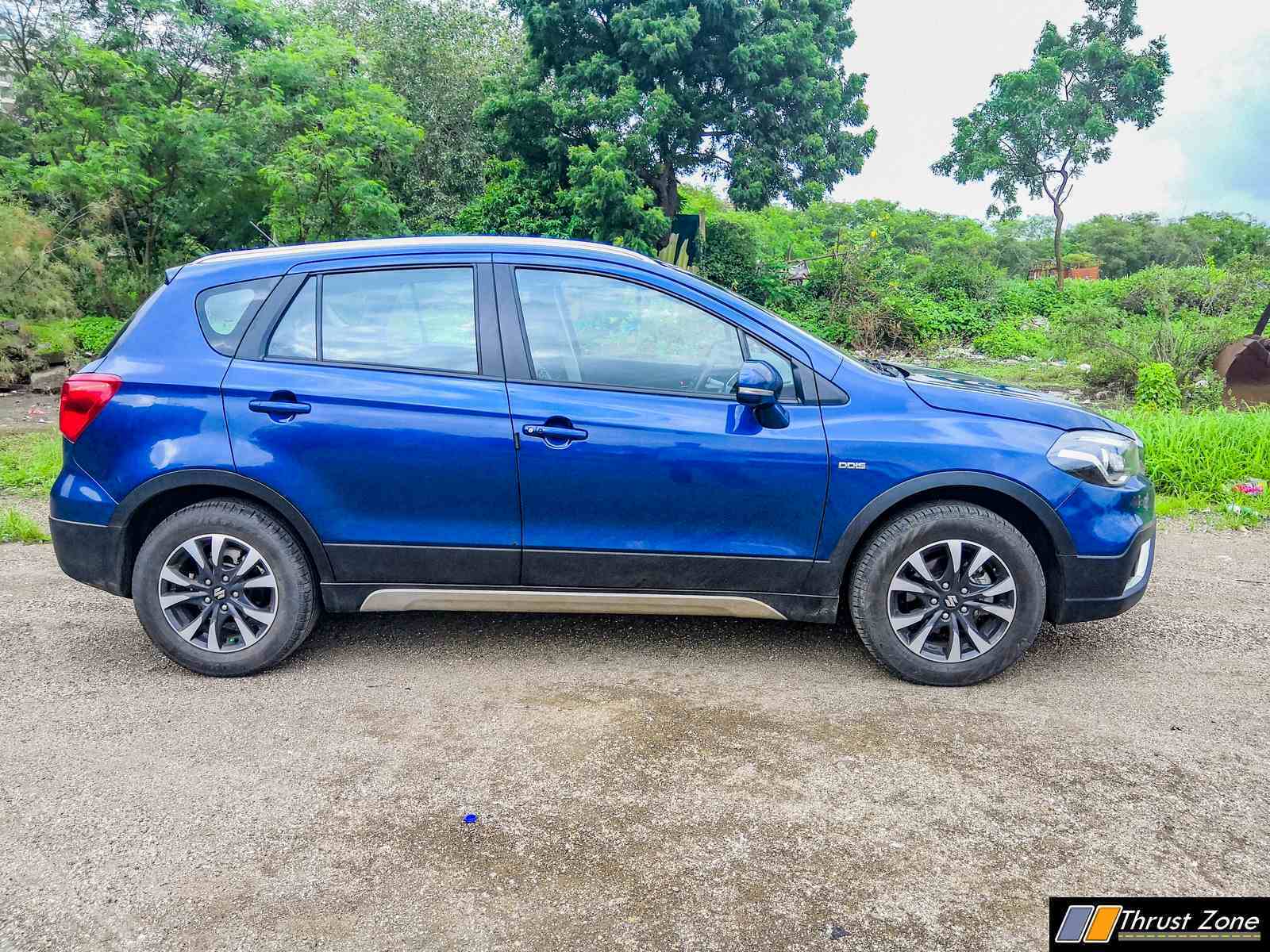 Read this too: Brezza petrol also incoming
Read this too: Brezza Road test
Read this too: Ignis Diesel AMT Review
Read this too: Baleno RS Review
Read this too: WagonR Felicity edition launched
Read this too: Hyundai applauded Maruti for making efficient cars
———–
Read this too: Maruti XUV rival coming soon
Read this too: Baleno top-end variant with automatic gearbox launched
Read this too: Maruti bets big with True Value outlets
Read this too: Maruti sets up 12 automated driving schools
Read this too: Maruti is by far the leader in sales number overs its rival in every regard
Read this too: Maruti Ciaz launched
Read this too: Maruti S Cross facelift launched
Read this too: Maruti Alto Crossover to rival Kwid is coming
Read this too: Maruti Suzuki Super Carry to be launched
Maruti S-Cross Long Term Review
Design

Interior

Space

Quality

Features

Dynamics

Performance

Safety

Practicality