We told you so! Avenger 180 is here and is replacing the Avenger 150. This variant still undercuts the Intruder 150 and offers insane bang for buck over its rival
Bajaj 180 Avenger is back and how! The cruiser already existed but, was shut down as the Avenger brand grew up in capacity which went from 180, 200 and 220. Today, Bajaj has brought it back along with the 180 and the 220 will exist. This gives it a big edge over the Intruder 150 which is here to take market share from Bajaj in this category. Avenger 150 is gone and it is replaced with this. However, there is still a large gap in the Rs. 70,000 space for a cruiser. Let's now look at the 180 Avenger details.
2018 Avenger 180 Design and Dimensions
As we have seen earlier that the cruiser gets styling cues from the updated Street and Cruise 220. The headlight and its cowl has changed, smoke effect in the tail-lamps. Subtle changes to the badges and stickers. Side panel and tail-piece see minor changes and so does the tank. All black styling in the lower section to make it more sporty. The gator on the forks also makes it look rather traditional.
Read this too: WE TOLD YOU THE AVENGER 180 IS COMING!
Read this too: 2018 Bajaj Avenger prices annouced
Read this too: 2018 Bajaj Models Launched -Includes Pulsar Black Pack, Dominar 400, Avenger 220, Platina and Vikrant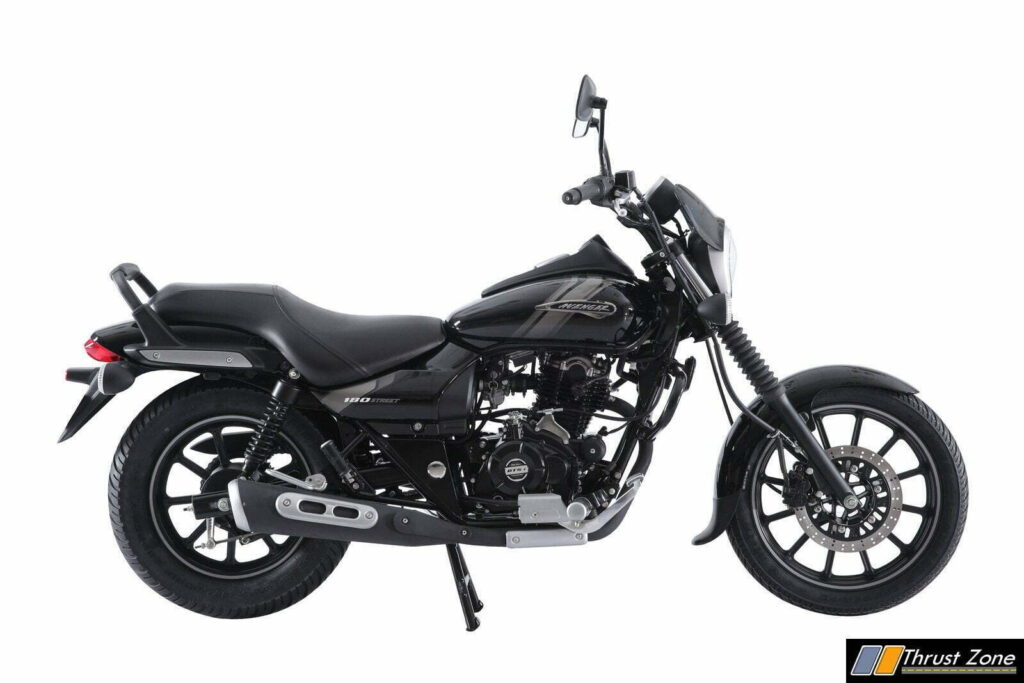 2018 Avenger 180 Chassis, suspension and brakes
Telescopic with anti-friction bush at the front and at the rear, twin shock absorber can be seen. Chassis is the dual cradle frame on offer with disc brake at the front and drum brakes at the rear. Bajaj has revised the chassis and improved suspension to make it better to ride over the past models.
2018 Avenger 180 Speedometer
The speedometer sadly remains the same as before and isn't an all digital unit.
2018 Avenger 180 Price and Launch
Launched at Rs. 99,000 on-road in Mumbai and Rs. 83,457 is the ex-showroom Price. The price is very close to the previously sold Avenger 150. We told you Bajaj could offer more value and it has done it with the same. Rs. 15,000 gap between this and the Intruder 150 makes the Avenger insanely appealing with more cubic capacity and power.
2018 Avenger 180 Engine And Specification
The motor will be the same as seen in the Pulsar 180. The engine makes 15.5 BHP of power and 13.7 Nm of torque. Expect some changes to the gearing to suit the role of the cruiser. The motor comes mated to a 5-speed gearbox. The engine is air-cooled and has a 2-valve setup and comes with twin-spark technology.
2018 Avenger 180 Safety Features
There is no ABS or CBS on offer as of now. There will be AHO on offer.
2018 Avenger 180 Competition
Suzuki Intruder 150
Read this too: 2018 Bajaj Discover 125 and 110 launched
Read this too: 2018 Bajaj V12 2018 Model details
Read this too: 2018 Bajaj Platina details
Read this too: 2018 Bajaj Pulsar Black Pack Series details
Read this too: 2018 Bajaj Pulsar Festival of speed is back in Third Avatar
Read this too: Aamir Khans buys v15
Read this too: CT100B launched worldwide
Read this too: Bajaj Triumph bike is confirmed to be a 500cc single-cylinder
Read this too: Urbanite codenamed electric vehicles coming
Read this too: Pulsar NS160 launched, full details
Read this too: Avenger 400 is a dream that come true some day – rendering and speculations
Read this too: Pulsar RS200 details and all numbers and price list
——————————-
Read this too: Bajaj Avenger 150 vs Intruder 150 Comparison Shootout!
Read this too: Pulsar NS160 Review
Read this too: Bajaj V15 Review
Read this too: Bajaj V12 Review
Read this too: Bajaj V12 vs Shine SP Review Comparison Shootout